Building a "stables" collection of toys for future mice and bird toys look nice and sturdy. Usually I see them in heavy-duty plastic, wood, yucca (the fiber-y like stuff?), and paper confetti. Are there any toys/materials I should watch out for? I know not to use rubber or the rubber-y plastic, but is there anything else? Since rope can be used for mice climbing I assume the parrot toys with rope is okay?

WangJi

New Member





Join date

: 2020-03-09


Posts

: 10



Bird toys are absolutely okay! I would just look out for any soft plastics that they can chew or anything fluffy they can get stuck in. Other than that they're a great option. I would also avoid anything with bells, not because they can't have them but because you'll never sleep again. Let me know how it goes!

Molly_mouse

Jr Member





Join date

: 2020-04-21


Posts

: 23



I don't use any plastic toys, but wooden bird toys and chews are good. My mice particularly like these woven, bendable parrot perches.

SarahAdams

Sr Member





Join date

: 2020-08-18


Posts

: 119



Here's little April with one of her bird toys, the ever-popular "stick of knots":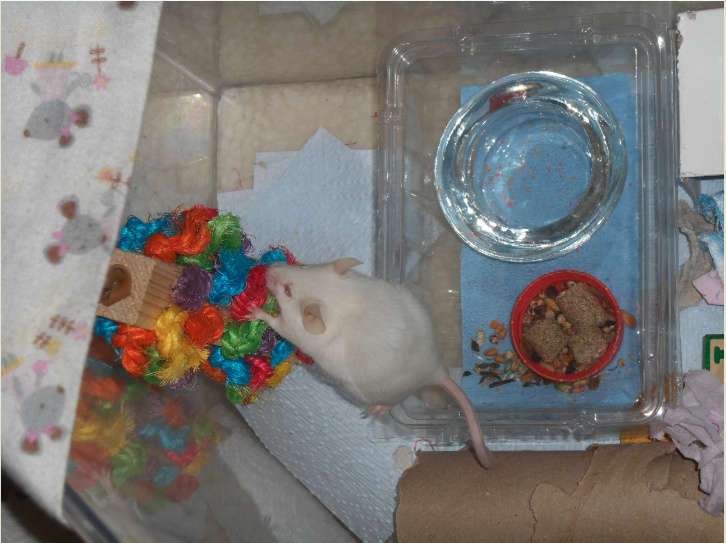 I used to tuck oats in amid the knots, and she would search for them and snack.
Then she figured out she could climb up the knots.  Before long, one day I looked over and saw Miss April perched on top of the stick of knots, giving me her "pick me UP???" look.
That looked terribly dangerous, so I decided I better keep a closer eye on her when she had the stick of knots in her tank.  But within a few more days, I looked over to check on her, and there was Miss April, perched ON THE TOP EDGE OF THE WALL OF HER TANK, giving me her "pick me UP???" look, having climbed there from the top of the stick of knots.
Miss April could always outsmart me ...
_________________
Zephyr
Coco
Bobby
Noche
Paiva
April
I loved you so / I still do / I always will / 'Twas Heaven here with you.

MerciToujoursMaPetiteBoop

Sr Member





Join date

: 2017-10-18


Posts

: 344






SarahAdams likes this post
Small bird foraging toys are great from my experience; just be sure to get ones that are only paper and don't have any plastic. I've also used bendable bird perches and ladders and they both went over pretty well.
_________________
Mice: Raven
Other: Hermes (robo hamster), Prism (betta), Max (dog--profile pic)
Rainbow Kids: Pepper, Nugget, Dove, Artemis (hamsters), Leaf, Oak, and Moo (mice)

Robin~

Sr Member





Join date

: 2019-06-05


Posts

: 444






SarahAdams likes this post
Similar topics
---
Permissions in this forum:
You
cannot
reply to topics in this forum