This is probably a dumb question, but here's to hoping there's a solution. So I know mice usually pick one corner to pee in. I have a tank topper and recently one (or maybe all?) of my mice started going up to the top level of the topper and peeing in that corner. I caught one of them red-handed today. It drips down the outside of my tank and gets on my desk. It smells awful
I've had mice for almost a year now and never had this problem, is there a reason for this behavior, or any way I can encourage my mice to only pee in their bedding?

Mouse_mom

New Member





Join date

: 2020-09-03


Posts

: 13



They choose the most unfortunate places to go. Mine has decided to use his wheel...for some reason.

I'd try placing things in the corners, he might change his mind about them...or at least it'd stop getting on your desk. Boxes with some substrate inside are a good option. I use coroplast to cover the level on my topper, so I imagine you could make a substrate border and start adding some onto the levels?


_________________
Goose, Otter & Mr. Bald* ♂ 

Remembering Tipsy, Topsy, Maier, Graham & Garcia ♀
*Neutered male group. Do not house intact males together.*

River

Hero Member





Join date

: 2016-06-19


Posts

: 1438






SarahAdams and Mouse_mom like this post
I completely understand. My mice like to poop on one of their hanging platforms. The poop then falls onto the shelf their on, and slips down the crack in the back of the shelf and onto my books...

You could essentially litter train them. Take pieces of their poop and things wet with their pee (like cardboard or a tissue) and pile it up where you do want them to go. This will encourage them to use that spot, hopefully.
_________________
Mice: Roisin, Fiadh  
Puppers: Maise, Flaithuil, Caolan
Rainbow Bridge: Cairdeus (hammie), Zairah (cat)

M O U S E

Sr Member





Join date

: 2020-03-19


Posts

: 152






Oh my gosh, the coroplast idea would be perfect. Do you use anything to secure the panels to your topper? Thank you both so much for the advice!

Mouse_mom

New Member





Join date

: 2020-09-03


Posts

: 13



M O U S E likes this post
Something to consider ...
It sounds to me as though your mice may have figured out that they don't care for living in immediate proximity to the smell and wet that result when they "make mousewater".  If that is the case, then it may be difficult to get them to go back to wetting in their bedding.
It may take some trial and error, but you may want to see if they may have semi-pottie-trained themselves.  You have to identify some places they may most likely use for relieving themselves, you have to find an appropriate receptacle for them to use, and you have to be willing to clean out the receptacle at least a few times a day.  You also have to be willing to keep trying to find something that works, and to admit defeat if it just isn't happening.
My little April pottie-trained herself.  She knew I would check on her regularly to see if she wanted to come out of her tank, and she would hold her bladder until I let her come out.  Then -- piddle flood all over me.  I strained my imagination for a couple of months, trying to think of something she could use for a little toilet, until I realized that I could use one of her water dishes.  Her water dishes were just low glass candleholders, some round and some heart-shaped, with a rim wide enough for her to climb on.
You can see one of her round water dishes inside the plastic tub April is standing on top of in this photo: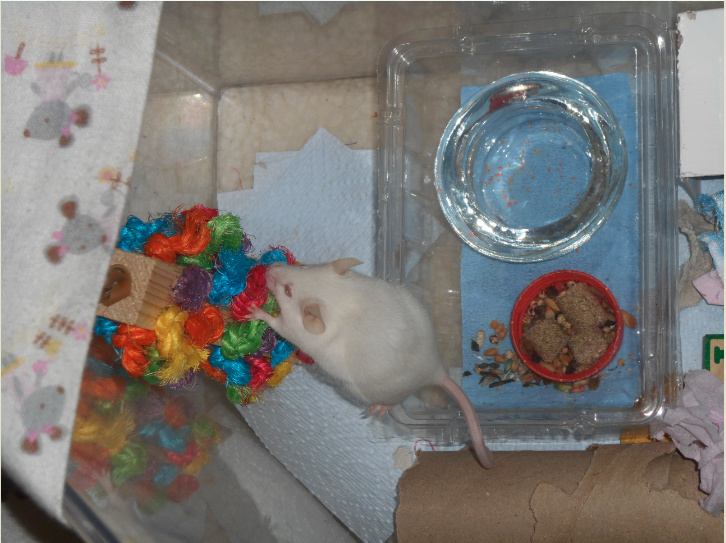 The first time I checked after I put one of the round dishes in the corner where she usually messed, she already had made a deposit of liquid gold.  I heaped praise upon her for being such a smart, clean little mousie.  Then I took her with me, riding on my shoulder, while I "flushed her toilet" for her -- rinsing it out in the bathroom sink.  Subsequently, I observed her from time to time perching on the rim of her little pottie, hitting the bullseye.  I continued giving her positive reinforcement.  One time I even saw her walking across her enclosure with a poo pellet in her mouth, and she dropped it in her pottie.  Miss April was remarkable.
Even if the pottie training effort doesn't "pan" out, it would give both you and your mice a good challenge to work on together.
_________________
Zephyr
Coco
Bobby
Noche
Paiva
April
I loved you so / I still do / I always will / 'Twas Heaven here with you.

MerciToujoursMaPetiteBoop

Sr Member





Join date

: 2017-10-18


Posts

: 352






M O U S E and SarahAdams like this post
Similar topics
---
Permissions in this forum:
You
cannot
reply to topics in this forum