I'm about to get back into owning pet mice. I actually stopped, because I had rescued several with health issues that cut their lives too short. I broke my heart and after owning mice for 5 years and loving them since a child I took a step back to let my heart heal.
I'm ready to have them in my life again and my children are of an age now that I feel comfortable with the being more directly evolved.
We decided that we would get a group of females for my daughter's 9th birthday if she proved she could be responsible.  Honestly, I wanted them anyway do its not entirely dependent on that, but she's held up her end of the bargain.  
I started researching mice with the kids about 3 months ago to prepare them. We've talked about handling and life spans.
Anywho, I'm still deciding on bedding, but we'll be using carefresh for now, and I just picked up this hampster haven metro. It is missing a few thing, and we've been crafting and storing, and gathering mouse appropriate things the whole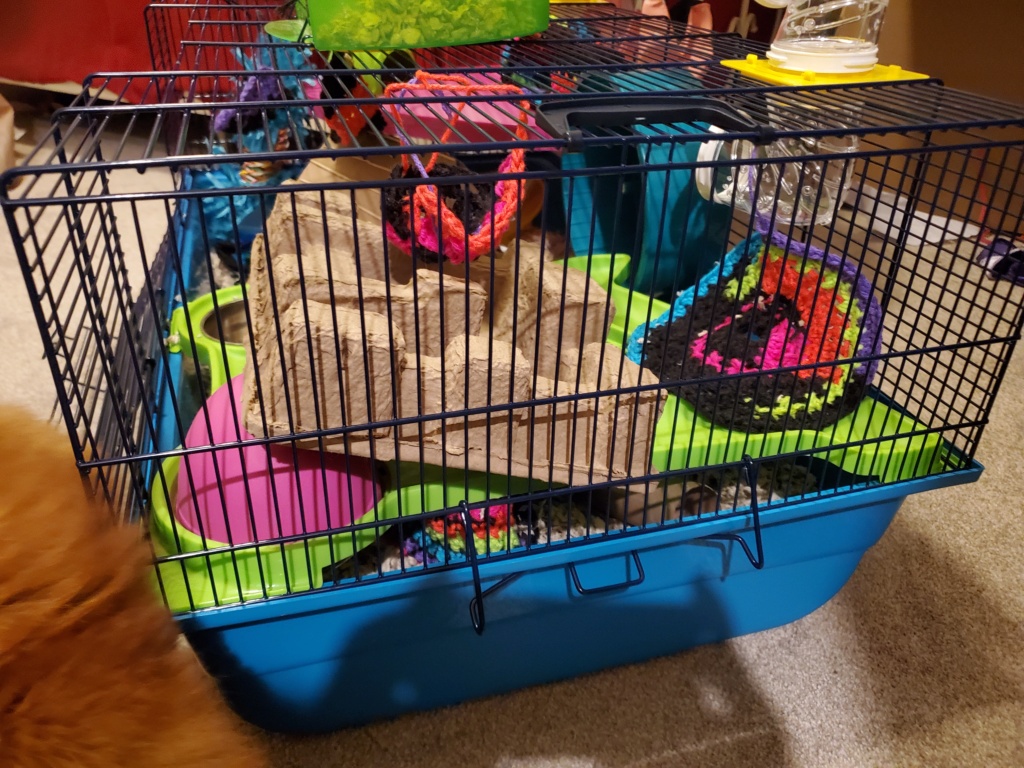 time so I have boxes more of things I can add, but does it look like I've utilized the space enough for the 3 girls well be getting next month?

SazumeSO

New Member





Join date

: 2020-12-21


Posts

: 3



Peachy, CuriousWhiskers and Dee67 like this post

SazumeSO

New Member





Join date

: 2020-12-21


Posts

: 3



Peachy and CuriousWhiskers like this post
It looks really good, I love the little house you (or your kiddos) made! Super cute.
I think it utilizes the space really well, and if you have other stuff you can always swap things out to give them new things to do and explore.
I would double check the bar spacing, to make sure it's around 1/4" or less, just to make sure they can't squeeze through (especially if you get younger/smaller girls).
_________________
tabby | she/her | 25 | tx, usa
★Mouse Dossier★
my mouse gallery
mouse mom to: Pronto
remembering: My dearest Trouble and all her siblings who've joined her across the rainbow bridge.  
M O U S E and Dee67 like this post
Wow, really nice busy home for the upcoming girls.
_________________
Dee
Let the beauty of what you love be what you do - Rumi
It looks wonderful! I love love love how you packed the space. Your girls will surely like it.
The only thing I'm concerned about is the crocheted bridge and hammock. It's good to have those things, but I was told that mice can get their nails stuck in materials like that, which is annoying for them, or get their legs stuck in the holes and potentially get injured. Felt is the most recommended fabric for rodents, however if your girls aren't big fabric chewers, you can use old shirts, pillowcases, etc.
I would love to live there if I was a mouse, lol.
_________________
Mice: Roisin, Fiadh  
Puppers: Maise, Flaithuil, Caolan
Rainbow Bridge: Cairdeus (hammie), Zairah (cat)

M O U S E

Sr Member





Join date

: 2020-03-19


Posts

: 169






SarahAdams and Dee67 like this post
Welcome!
I love your cage! It looks similar to mine and I love mine too. lol
It looks like you've provided plenty of enrichment high and low. Fleece yarn would be great alternative to acrylic/cotton yarn, which can pose dangers to nails if snagged and be dangerous to chew. Fleece and felt are considered safe because they won't turn into a bunch of little strings when chewed up. I buy cheap fleece blankets and make my own fleece yarn, but I know craft stores sell it too. Braided fleece make great ropes for climbing too. If you've never made fleece yarn before, this is the tutorial I learned from:
https://littlehouseinthesuburbs.com/make-fleece-yarn
And this is a mushroom house I made out of fleece. My ladies loved it!

Peachy

Moderator





Join date

: 2016-04-06


Posts

: 3164






SarahAdams, CuriousWhiskers and Dee67 like this post
Thank you so much for letting me know about the yarn. I knew cotton nesting fiber was a no no, but I didn't think about the crochet yarn. I was planning on making a fleece rope, I'll change out the other yarn.

The girls will be about 2 months old when I get them. How long does it take them to reach full size?
I'm getting a single male that will be housed in a bin cage separately, but I can make another one for the girls if they can squeeze through.

As a side note, I have no intentions of breeding them and expect they are siblings since they'll be from the same breeder and have similar coloring. I just know boys don't find home easily, and have really enjoyed them in the pasts.

SazumeSO

New Member





Join date

: 2020-12-21


Posts

: 3



CuriousWhiskers likes this post
Looks like a really nice home for the mice!

Nestmouse222

New Member





Join date

: 2019-06-18


Posts

: 6



Do they have room to run on a flat surface?

muisjes

Jr Member





Join date

: 2017-06-22


Posts

: 27






Similar topics
---
Permissions in this forum:
You
cannot
reply to topics in this forum