Hi there! I'm Kat, but online I go by Banilya. I'm fairly new to mice, just got my first ones back in the middle of December last year. As a kid I've wanted hamsters because of watching Hamtaro but I felt very drawn to mice after looking up different choices for a small pet to have. They're my very first mammals to have as pets; I've always had fish! Mice have become my favorite animal and I'm glad to be on this forum with fellow mice owners and enthusiasts!
Here are my mice! 3 of them: Ruby, Maisy, and Bruno. I had a past mouse named Sesame!
Ruby & Maisy
Adopted Dec 17, 2020
My very first mice! Got them from Petco. Maisy is the alpha between them and loves to run on the saucer. She's pretty chill but assertive. Ruby is very active and quite the rascal. She was always looking for ways to escape, and kept me up several nights trying to get her to calm down and get her back in the cage. She loves a good grooming session.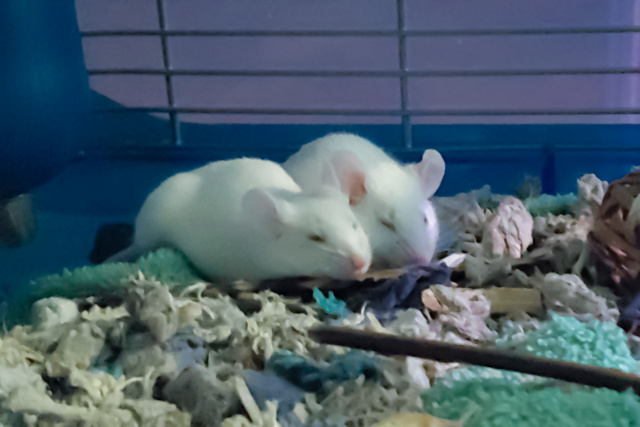 (By the way, they now live in a 50 gal bin. I just kept their old cage inside the bin to repurpose as their nesting area)
Sesame
Adopted Jan 9, 2021
Died April 7, 2021 -
Memorial
My third mouse. Found her all by herself in Petsmart. She's very small and fast! I thought she was still a growing baby but she's really small compared to Ruby and Maisy at ~2.5 inches.
At this time of me writing she's still afraid of me but
I adore her and love seeing her be adventurous around her bin. Sesame and I bonded together over time after having spent time regularly nearly every day. She was so sweet to me, always wanting to be with me, resting on me while I did my work on the computer, following me around from in her bin. I loved her very much - she was so special and I wanted to give her the best life I could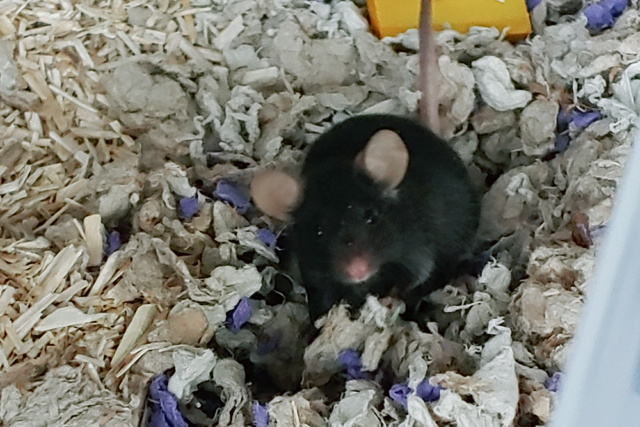 Bruno
Born February 15, 2021
Adopted April 2, 2021
My first mouse from a breeder! He's still shy at the moment but he's curious and mellow. I intended to have him be Sesame's friend, but he never got to meet her before she died. He was still 7 weeks old and still in quarantine as well
Last edited by banilya on Wed 28 Apr 2021, 12:15 am; edited 1 time in total
SarahAdams and Dee67 like this post
Your girlies are beautiful. I love snuggle pics!

Peachy

Moderator





Join date

: 2016-04-06


Posts

: 3158






Thank you! They're very flattered
Hi
@banilya
and welcome. Your girls are very pretty, I hope they will all get along soon.
_________________
Dee
Let the beauty of what you love be what you do - Rumi
Hi
@Dee67
! Thank you from me and them! I hope so too
They're all just so darn cute! Looks like someone fell in the inkpot though!

SarahAdams

Sr Member





Join date

: 2020-08-18


Posts

: 202



@banilya
Welcome to the forum!
Such cute little mice you have!
Could I ask who drew your signature image? It's so cute
_________________
tabby | she/her | 25 | tx, usa
★Mouse Dossier★
my mouse gallery
mouse mom to: Pronto, Nellie, Frankie, + Zinnia
remembering: My dearest Trouble and all her siblings who've joined her across the rainbow bridge.
I was wondering that too. Did you draw it
@banilya
_________________
Dee
Let the beauty of what you love be what you do - Rumi
@SarahAdams
Thank you!! Lol yep her curiosity got her slipped in it!
@chiroptera
@Dee67
Thanks!! Yep I drew it! Working on some mice stickers at the moment, will update eventually when they're available
Last edited by banilya on Sat 30 Jan 2021, 4:28 am; edited 1 time in total (Reason for editing : Replying to more)
Greeting cards with the mice on it would be awesome too.
_________________
Dee
Let the beauty of what you love be what you do - Rumi
SarahAdams likes this post
Similar topics
---
Permissions in this forum:
You
cannot
reply to topics in this forum