I'm new to this forum and to mouse ownership (though I have lots of experience with other rodents like hams/gerbils). I recently rescued an adorable female deer mouse from my cat and decided to keep her. I've named her Petunia and am working on building trust. Yes, I know about hantavirus but I'm not all too worried about it because I live in GA. New friends/mouse advice welcome!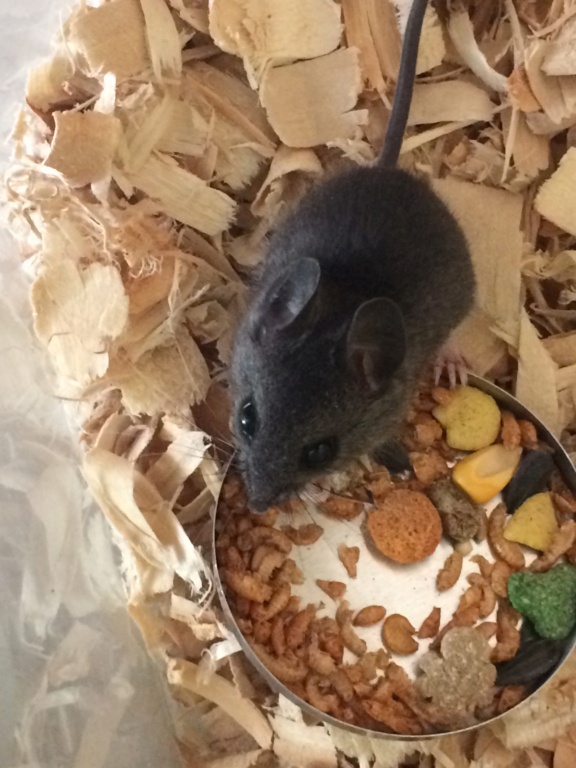 (don't worry, her bedding is aspen)

Futurevet04

New Member





Join date

: 2021-02-25


Posts

: 1



We have some different reasons we don't encourage keeping wild mice unless they're unable to be released. The main reason isn't concern for the person, but for the mouse. Is it really fair to cage an animal that wasn't bred to be domesticated, but to be wild, even if it's not in the animals best interest? Can you safely provide what she needs -- companions, a large and natural territory with clutter to hide in? It's worth asking. 

She's adorable, though, and I wish you the best! This isn't meant to come off as a scolding, just things to consider. Best of luck.
_________________
Goose & Otter* ♂ 

Remembering Mr. Bald ♂, Tipsy, Topsy, Maier, Graham & Garcia ♀
*Neutered male group. Do not house intact males together.*

River

Hero Member





Join date

: 2016-06-19


Posts

: 1486






Welcome!
I concur with River. You really don't want to keep any wild animal in captivity if it's healthy and releasable, and mice are no different. Yes, it may be more venerable to cats and other predators in the wild, but a wild life for a non-domesticated mouse is better for it's own wellbeing. Deer mice are especially clever and can survive well in forests/other natural ecosystems. There's a wild deer mouse that has been nesting in my birdhouse for the last few years. Maybe you can use a small wooden wren house as a nest box for them, get them used to it, then take them in the box and hang it a couple feet off the ground next to a tree trunk, in a wooded area (and far away from cats!) so it'll have a warm, comfortable place to live. I bet you it'll keep living there and appreciate it a lot!

Then maybe you can get a fancy mouse to take their place? There are a lot out there that need new homes!
Again, welcome! And no pressure, just something to consider.

_________________
One male mouse, Willie!
Rainbow Bridge:Merci, Astra, Ellie, Suzie (Suzers), Millie, Cece and Terri.

EverythingAnimal

Sr Member





Join date

: 2016-04-02


Posts

: 320






Hi
@Futurevet04
. The deer mouse is very sweet, and welcome to you to the forum. I had trapped several deer mice that had entered our basement this fall, and since I caught them in the winter and it was storming, I had to keep them for a few days. After this I brought them outside and placed them in a safe, protected area, along with some food, and let them go back to their lives. They were extremely unhappy being in the bin I had them in temporarily, they actually would leap for hours trying to get out, and I had heard of cases of deer mice breaking their back or limbs trying to get out of captivity. Does your mouse seem content or does she constantly try to get out? If you do decide to keep her be sure to go get yourself a tetanus shot, as you will likely be bit. I know you will do what you feel is right for the mouse. If you have any questions please ask.
_________________
Dee
Let the beauty of what you love be what you do - Rumi
River and M O U S E like this post
I agree with what everyone has said about it being in the mouse's best interest that you release her. Her home is in the wild, not a cage.
_________________
Mice: Roisin, Fiadh  
Puppers: Maise, Flaithuil, Caolan
Rainbow Bridge: Cairdeus (hammie), Zairah (cat)

M O U S E

Sr Member





Join date

: 2020-03-19


Posts

: 169






---
Permissions in this forum:
You
cannot
reply to topics in this forum