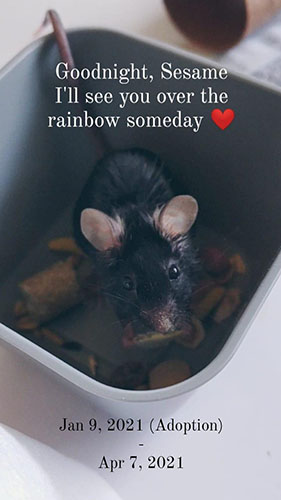 Sesame was a special little mouse. She was such a sweetheart and I loved her so much. I wanted to give her all that I could to make her happy.
I got her at Petsmart and intended for her to be another cagemate to my first two girls Ruby & Maisy. She was so tiny! I measured her at about 2-2.5 inches, not counting the tail. I thought she was still a growing baby but she never grew any more after all the months I had her. After her quarantine, I thought it was perfect to name her "Sesame" since she reminds me of a tiny, black sesame seed  
Unfortunately, she and my other girls didn't get along after multiple introduction attempts. Although Sesame was the one being quite clingy and aggressive to them by constantly humping them, I think Sesame also just lacked social skills from being alone all the time. She was the only one inside her container at the store. She might have felt very sad and lonely from being rejected, so I decided to give her lots of love and attention.
Sesame was very fun, adorable, and loving to be with. I wanted to do agility training with her since she's super fast and agile! She learned to do it pretty fast our first time doing hurdles. I always let her play and walk around on my desk while I did work. Sometimes she'd squeeze herself through my hand if it looked like a tunnel, and run all over my arms
My journey with her was so satisfying in how we bonded together. When I first got her, she was so scared of me! She'd run away at the sight of me and when I got near her bin. Over time after being with her so much, I realized she totally trusts me. When I'd first wake up in the morning, I wouldn't see her in her bin, but as soon as I got out of bed, she'd come out up to the wall close to me! She'd follow me in the direction I'd walk, run up whenever I came into my room - it was so adorable 🥺 Whenever I had to put her back in her bin after being out with me at my desk, I'd feel bad about it because she wouldn't want to leave yet. She'd keep climbing back up on my arm ;-;
She got a compulsive scratching problem in March, I think from sadness of having been rejected by my other girls. No bugs were found on her after 2 vet appointments from 2 different doctors. After dedicating a lot of time to taking care of her, she got better, luckily. Lessened scratching and her fur was starting to grow back - she was even letting me pet her regularly now! But unfortunately, very soon she just died. I had gotten another mouse, a male mouse, to be her friend. But he never got to meet her since I was still quarantining him and he was only about 1 month old.
I miss Sesame so much. Aside from my other girls, Sesame's my first real pet. I didn't even realize it was only about 3-4 months that I had her. I spent every day with her and it felt like I had her for at least a year. I was so heartbroken, but she's over the rainbow bridge now where she can make friends with other mice and be happy. Goodbye Sesame, I love you very much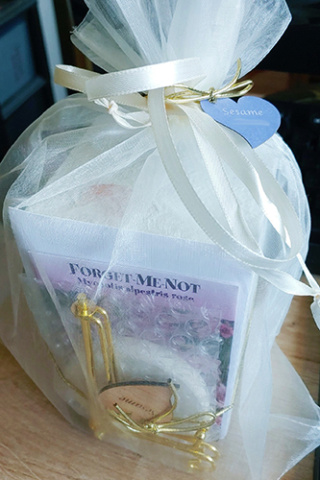 I got her cremated and just got her ashes back today at this time of posting. It also has a clay pawprint of her's!
And thank you so much to this forum with everyone who helped me on my questions and concerns about her! Mice are really amazing, precious little animals
chiroptera, SarahAdams and Dee67 like this post
Aww. R.I.P. little Sesame. At least she got to know the good life and love for the time she had.

SarahAdams

Sr Member





Join date

: 2020-08-18


Posts

: 171



@SarahAdams

wrote:Aww. R.I.P. little Sesame. At least she got to know the good life and love for the time she had.
Thanks so much
She'll be running in her wheel up in the sky <3
SarahAdams and Dee67 like this post
Oh my,
@banilya
what a very special mouse Sesame was for you, you're so lucky you had some time with her and you bonded. You will miss her but will have great memories.
_________________
Dee
Let the beauty of what you love be what you do - Rumi
Similar topics
---
Permissions in this forum:
You
cannot
reply to topics in this forum