Hi y'all,
Just noticed two lumps on my female mouse Tabasco behind both her shoulders. Looking back at old pictures, she's always had prominent shoulders but these lumps seem to have gotten bigger all of a sudden.  Has anybody ever seen this in their mice before?  If so, any tips for next steps?  There hasn't been any change in her behavior at all, and she's eating and drinking normally.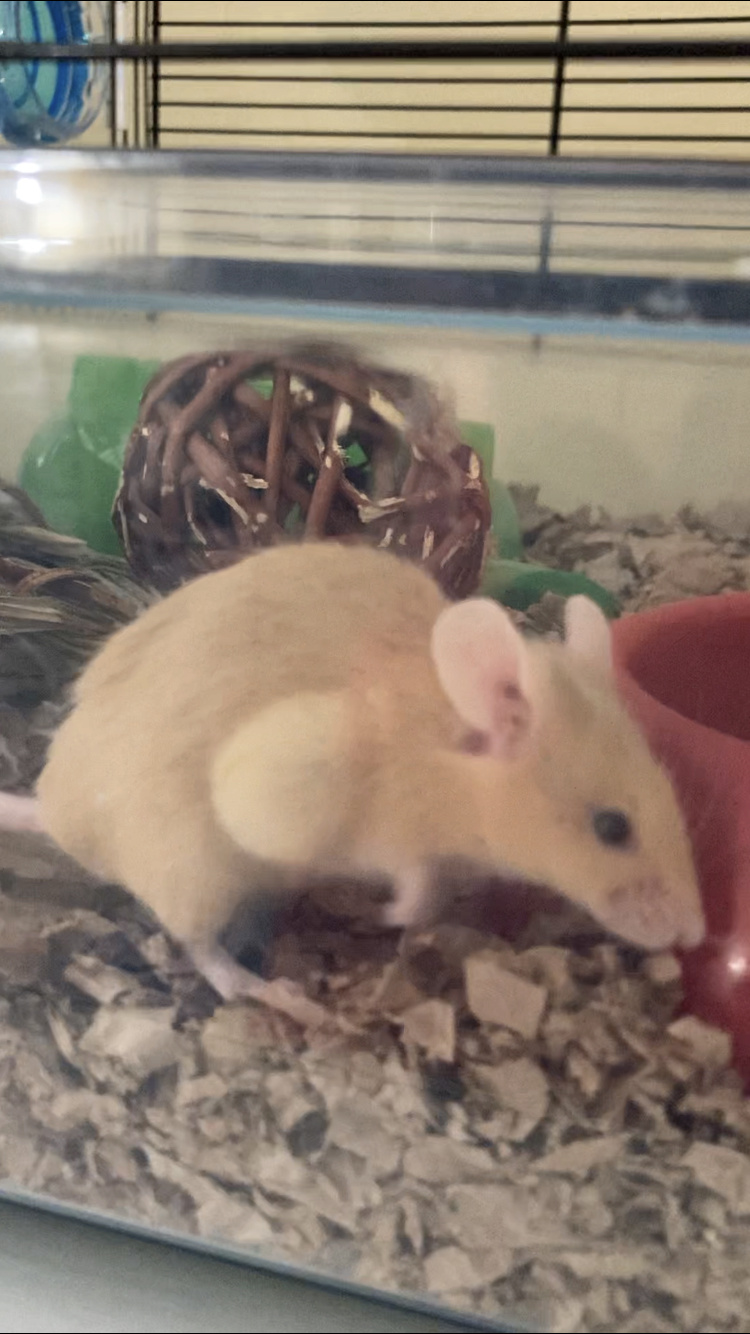 oliviagrace29

New Member





Join date

: 2021-01-03


Posts

: 16



I agree it's very abnormal. That placement would usually suggest a mammary tumor but given that it's so symmetrical, I'm not sure...I would seek veterinary attention if at all possible.
_________________
Goose & Otter* ♂ 

Remembering Mr. Bald ♂, Tipsy, Topsy, Maier, Graham & Garcia ♀
*Neutered male group. Do not house intact males together.*

River

Hero Member





Join date

: 2016-06-19


Posts

: 1486






Ok thanks. That's what I was afraid of... Assuming it's a tumor, do you know how long mice typically live with mammary tumors? She's behaving normally and eating/drinking well. I just really hope she's not in pain...

I've also been reading up on this and it seems like surgery/treatments of tumors in mice are usually unsuccessful since the risk is so high and they just grow right back. Is this true?

My inclination is to just keep her as comfy as possible here at home where she's at ease - I think a trip to the vet might really stress her out...

oliviagrace29

New Member





Join date

: 2021-01-03


Posts

: 16



I would also agree that you should try to take her to the vet. They'll be able to more accurately figure out what's going on with her and they'll talk you through all of your options. If it ends up that they can't do much, they'll at least be able to tell you what you can do to make her the most comfortable or manage any pain that she might be having. I'd say that would outweigh potentially stressing her out a little bit. That said, vets can be super expensive, so I'd recommend doing some research on what's available in your area. Mice are also really great at hiding pain, so you should watch out for other signs of illness like lethargy, weight loss, having a hunched back, a matted coat, etc. I'm really sorry you have to go through this, it's awful when our little mice have health issues. I've definitely been through it, and I'm sure you can find some frantic posts I've written on this forum to prove it. While my mouse didn't have lumps in the same place, I had a mouse with two tumors at one point. She did get surgery for it, but it was a lot more simple because they were external. She didn't even have a scar. They also never grew back, but I was warned that that was a possibility. I'd say it's worth it even if they are likely to grow back if you can extend the life or improve the quality of life of your mouse, but again, a vet would have a better grasp on what the pros and cons of treatment are. I wish you and Tabasco the best of luck!

Molly_mouse

Jr Member





Join date

: 2020-04-21


Posts

: 28



Thanks so much for responding - I'll look into vet options in my area... I hope I can find one that's affordable.  I really appreciate your advice - I'm sorry you've had to go through this with your mice too.  I know it's so awful when they have health issues - I want to help so badly but there's only so much we can do.  They're such sweet little creatures!  I'm just gonna spoil her and make sure she's comfy until I can find a vet that will see her.  Thanks again!

oliviagrace29

New Member





Join date

: 2021-01-03


Posts

: 16



Similar topics
---
Permissions in this forum:
You
cannot
reply to topics in this forum