So I was bad and got a third mouse today. She was just really cute and definitely would've been eaten, sad I had to leave the others... But I saved one!
I was told she's between 6-8 weeks old, and two people said she was a female. She's currently in a terrified frenzy so I can't get a good picture and I don't want to try handling her at the moment.
First off, I guess. I plan on quarantining her for a little while. How long should I? And when I run one of my older two to the vet in a few days for a sudden pop-up tumour (I think mammary gland), I'll have her checked out to make sure she's healthy and all.
But how would I go about introducing them? I'll wait until she's bigger as well because she's tiny tiny and she'd get out of the cage the older two are in currently. Though sadly at the moment she's in a one-gallon tank I brought her home in. I believe we have a spare ten-gallon in the garage, so I'll get that cleaned out and keep her there until she's bigger.
But yeah, I guess, how should I go about introducing them when she's bigger and I'm sure she's healthy? Thanks!!
And this is her! I've decided to name her Chyme. She's a tan, and apparently, I have a preference for them lol.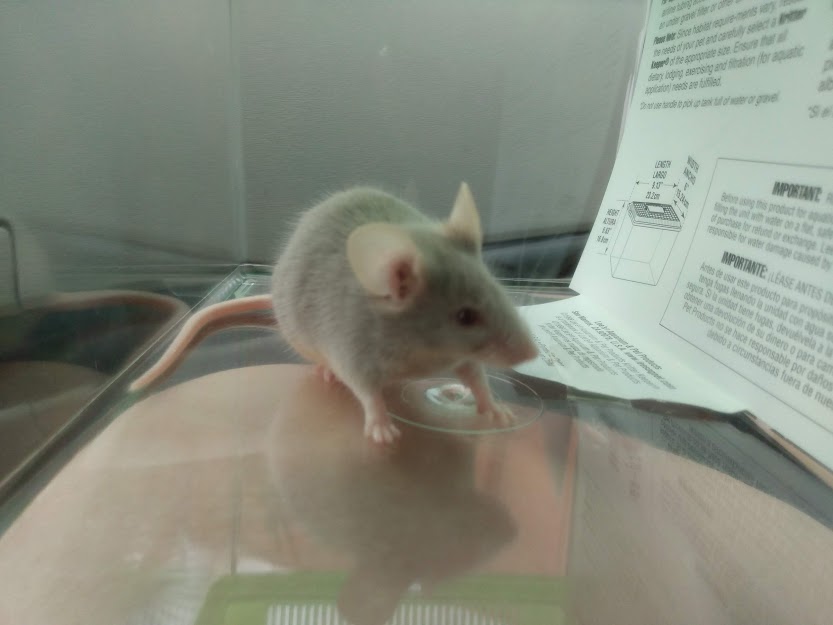 Inaiyau

Jr Member





Join date

: 2021-06-30


Posts

: 24






How are you finding such pretty mice left and right!? She's adorable! 

Most people recommend a three week quarantine, and that's what I've done with success so far. 

As far as introductions go there's a few different ways. What stays the same in all of them is that the first meeting must be on neutral territory! I would recommend a play pen, storage bin, or bathtub, but a deeply cleaned tank might suffice. It can't smell like any of the mice. They're social, but they can be quite territorial. 

I usually leave them there until they're in a cuddle pile, nothing but food and water in with them. At that point some people move them right into the permanent tank (still, deeply cleaned and smell free), and some people prefer a slower 'stage method'. I used the stage method with my male intros as I was still hesitant about neutered male groups at the time. 

For the stage method, you go from the bathtub/playpen to a small carry cage. No furnishing. They stay here for 12 hours and I expect all conflicts to be resolved during this stage -- by the end, there shouldn't be any bickering or chasing, and if there's any serious friction (like biting or fighting) I take it back a step. That is, back to the bathtub. 

And you slowly upgrade the cage size from there. If there's slight arguments that visibly subside, that's normal, just keep them in that stage a bit longer. If there's serious disagreements, take it back a step. I do three stages, the third stage lasts 24 hours or until they get along perfectly, and then into the final enclosure. 

But I really doubt that'll be necessary for girls. With my does, I just introduced on neutral territory and moved right into the final (deep cleaned) enclosure. They never fought again. It really depends on if you think they're a more risky intro. The neutral territory introduction will tell you what you need to know. 

Phew. 

That was a lot, I apologize.
_________________
Goose & Otter* ♂ 

Remembering Mr. Bald ♂, Tipsy, Topsy, Maier, Graham & Garcia ♀
*Neutered male group. Do not house intact males together.*

River

Hero Member





Join date

: 2016-06-19


Posts

: 1486






Dee67 and :) like this post
I honestly don't know lol. We have a couple of feeder breeders in the area and they just have really pretty ones. It's kinda getting hard not to get more!

Okay, I'll do that!

I don't think they will be? But I'm new to mice. My oldest is pretty submissive, while the younger of the older two is certainly dominant. So hopefully Chyme is submissive, though when I got her she had little wet spots on her back like others had tried to bite her. But I never saw her fight anyone in there for the easy ten+ minutes I stood waiting for an employee. So I'm not sure, guess I'll see though.

And thanks!!
Also, no need to apologise for the length! It was very descriptive! I'll try the shorter version first, but if needed I'll use the longer way. And I'll certainly remember it in case I decide to have males in the future!
Thanks again!!

Inaiyau

Jr Member





Join date

: 2021-06-30


Posts

: 24






_________________
Dee
Let the beauty of what you love be what you do - Rumi
---
Permissions in this forum:
You
cannot
reply to topics in this forum