Hello! I recently bought two fancy mice on July 28, both are females. I'm not knowledgeable on mice and their behaviors so id really like some help! Around a day or so after they have lived in their new home they have started to have small fights with each other usually just 5 seconds or such. I thought it was due to territorial issues (read this on the web) so id let it slide. However currently their fights have gotten really ugly and it happens a lot more times when I let them out of their cage (I let them free roam safely since Meeb appeared to like being outside more).Usually the more chubbier one called Mooncake picks fights with Meeb, who is more slimmer and in good shape. Mooncake's sides towards her hind legs are chubbier, almost looking pregnant. However when I bought them at Petsmart they were both in a female enclosure. Before they fight they go in circles with each other, sniffing each others bottom(?). They usually squeal and make noises when they fight but sometimes they fight in complete silence which I find odd. Sometimes they thump their tails which I have learned is when they are displeased with another. Please help ! Could it be that Mooncake is pregnant or a male? Or is it really just do to territorial issues? Thank you !!

omlette

New Member





Join date

: 2021-08-05


Posts

: 3



Its recommended to keep at least 3 females together, because two cannot establish a hierarchy and will fight over and over for the pole position.
Its unlikely that they are a male and a female, males tend to stress the female in the first days of contact, but after the female is pregnant, he will bound with her, they will play together and do grooming.
If a female is pregnant and the other is not, it is likely that the not-pregnant female will support the pregnancy of the pregnant one and help with raising the babies.
Two males display often the behavior you describe, they are trying to bite the enemy's gonads to make him unable to reproduce. But it is very easy to spot a male, just try to lure the mice onto the cage bars with a treat, then you can see, if they have balls.

Crabby

New Member





Join date

: 2021-06-11


Posts

: 8



Aah your a life safer thank you so much! Ill go ahead and get a third one then :] i checked and they are both females phew!

omlette

New Member





Join date

: 2021-08-05


Posts

: 3



Even with a third you might still see some squabbling and fighting, especially as they establish hierarchy. Be sure to watch them carefully. Also you should quarantine your new mouse for several weeks to be safe, as she could bring the others some disease or parasites. Please search this site on quarantining and also mouse behavior, specifically female mouse groups. You need to educate yourself if you're going to raise 3 mice successfully.
_________________
Dee
Let the beauty of what you love be what you do - Rumi
Ok there needs to be a boss.
Short version here us as long as there is not blood from tail biting, excessive grooming where hair is removed, butt pulling where blood is drawn, or other things that draw blood they will be ok.
Now there will be grooming that may have chirps, light butt pulling, humping, food stealing,  and a little bit of tail rattling from time to time.
The best way I found to deal with a territorial mouse is to change the cage up when you clean it. While cleaning the cage put the two in a small enclosure with a small (new) box as the only thing in the cage. Were playing with instincts here. They will want to hide more then they will hate eachother and the both of them will eventually be in the box. 2 to 3 hours in the small enclosure and they will be sleeping together.
Now this wont fix them. The boss is still going to be the boss when she gets back in her cage. But she wont be as agressive.
Also you need a place for your submissive mouse to hide. Now mice when they fight will always to try to attack from the rear. They are going for the back of the neck usually just chasing off a threat. But, when a mouse is backed into a corner both will "stand up" before fighting.
Here are some females not letting a male sleep with them.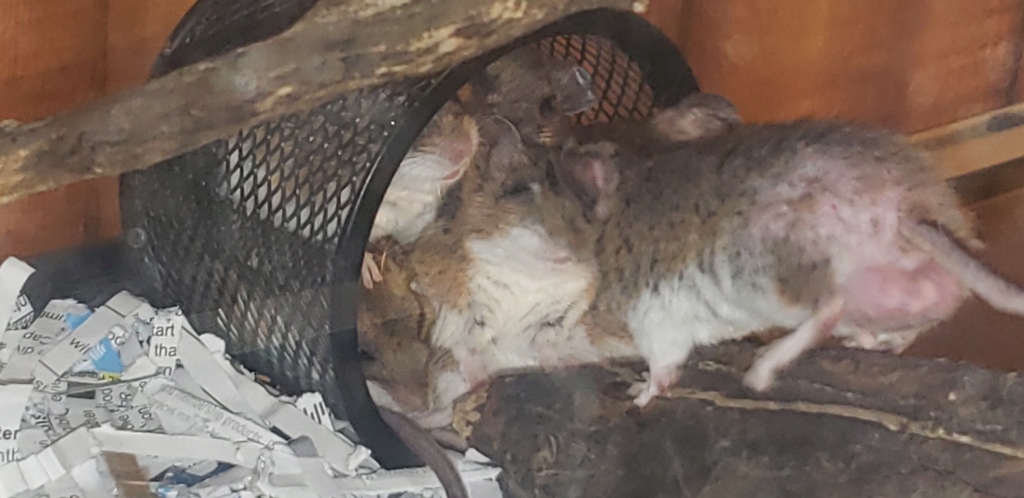 Two of them are guarding the rest . He is not agressive he just tends to try to sleep on the bottom pushing them out.
Now, if a mouse is in a tight enclos
ure with one way in and they cant stand up they wont fight. The submissive mouse can lunge forward and this keeps the dominant mouse from hurting her.
I have several safe spots for submissive mice to hide or sleep without worry.
These are what I found works great(link below)
The sub can hide inside all safe and the dom can smell her and such before leaving her alone.
https://www.amazon.com/LIZZQ-Premium-Pellet-Smoker-Tube/dp/B06ZZRR7XD/ref=asc_df_B06ZZRR7XD/?tag=hyprod-20&linkCode=df0&hvadid=198061703654&hvpos=&hvnetw=g&hvrand=9229764777098017944&hvpone=&hvptwo=&hvqmt=&hvdev=m&hvdvcmdl=&hvlocint=&hvlocphy=9017219&hvtargid=pla-391277863350&psc=1

cerial

Full Member





Join date

: 2021-05-30


Posts

: 79



Similar topics
---
Permissions in this forum:
You
cannot
reply to topics in this forum