i have had my mouse for about 2 months now and hes been fine ever since we adopted him. i have noticed today that he has started falling asleep i guess just in the middle of moving around his tank. i found him a few times today just out in the open, lying down with his eyes completely open but not moving and i had the worst shock of thinking he was dead. if i moved around him he wouldn't respond and only when i moved closer to him did he 'wake up' i guess and jolt awake. the reason i am worried is because he always sleeps in a hide or down in one of his burrows curled up, never just mid play. and i wouldn't call him lethargic because he's running on his wheel and running around like usual. is he just relaxing or is there something wrong?? i am just very worried and would really appreciate any help!!!

islao1234

Jr Member





Join date

: 2021-08-14


Posts

: 21



I'm not sure this will be of any help, but do you know that thing ferrets do when they sleep so deeply they go limp and won't wake up for a few moments even if they're being shaken? I think rats do this sometimes too, though I'm not sure. Just an idea that maybe he's just really comfortable with you and wears himself out a ton?
_________________
Mice: Roisin, Fiadh  
Puppers: Maise, Flaithuil, Caolan
Rainbow Bridge: Cairdeus (hammie), Zairah (cat)

M O U S E

Sr Member





Join date

: 2020-03-19


Posts

: 169






I looked your question up and I found an article on pet mice that says when mice in general feel very scared they play dead. Do you have any other pets that could be terrorizing him? Anything he might consider threatening around?
https://pet-mice.com/pet-mouse-play-dead/
_________________
Mice: Roisin, Fiadh  
Puppers: Maise, Flaithuil, Caolan
Rainbow Bridge: Cairdeus (hammie), Zairah (cat)

M O U S E

Sr Member





Join date

: 2020-03-19


Posts

: 169






we have no other pets around him and i don't pick him up as he doesn't like it, so i can't think why he'd be scared, and yes he does seem to do it after playing for a while. so maybe he is just comfortable enough to relax in front of me

islao1234

Jr Member





Join date

: 2021-08-14


Posts

: 21



M O U S E likes this post
Yes some mice like to freeze like that. It is a response to a threat they will just stay still hoping you do not notice them sometimes not moving at all for several minutes. You need to look at the face, ears, and tail to read how the mice is feeling.
I have a mouse named Cocoa who sleeps out in the open most of the time. She just lays on her belly and closes her eyes sometimes. She is a very deep sleeper and just stays in one spot unless someone runs into or jumps on her. She will shrug it off maybe give them a look then go back to looking forward before drifting off.
Here is my faviorite deer mouse Fatty sleeping on one of the 3 wheels by herself. Eyes open not moving for like 40 minutes. She still does it sometimes.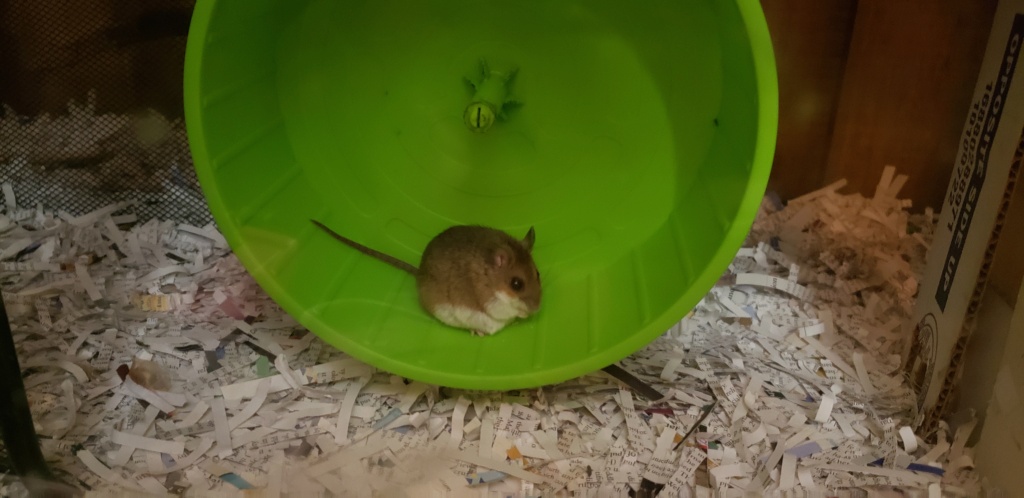 I have 2 deer mice that sleep on there backs, feet up, spread out like they are stretching a majority of the time. As well as 3 dedicated half moon side sleepers. Mice don't always like to sleep in groups or in hides sometimes they just like sleeping alone. The half moons and back sleepers do tend to be the pillows when in a group with 2 or even 3 other mice laying on them.
Back sleeping.
One of my fearful mice spaz will freeze and look at you even being so scared at times that her tail will become stiff and wavy. Spaz freaks out at anything new, or someone rushing her, even her own reflection after the cage has been cleaned.
It has been a very slow process to get spaz to the point where she will be able to be picked up. Even after a year after if I hold her for to long she will shake and you can see she is getting very nervous.
If you can get this mouse comfortable with you while sleeping I would take advantage of that. At the very least place your hand flat and moving slowly(no pointing) in the cage next to him and let him get use to the smell. Eventually place a dry treat (nothing that will stick)in your hand and just leave it on your open hand while he sleeps next to it for 5 or so minutes. One of those things you want to take time with and if you can do this over multiple days preferably at the same time of the day. If others come over to steal the treat that's alright and will enforce that it is safe to climb on. After a few days I would scoop under him like you would if you were picking up water with both hands and if he is still frozen just hold him a few inches off the cage floor in case he decides to jump or bolt.
My mice have a pretty solid sleep schedule that I can almost set a watch to. You will get a few that may stay up late and walk around very quietly. Maybe run on a wheel or such making a bit of noise. But a majority of the time they stick to the schedule within 10 minutes.
But if you do things like take advantage of that schedule you can have them getting use to new things. I have 5 mice under a towel next to me on a desk. Most of them take a nap at 1030Pm and are asleep by 1230Am to 230Am. 230am everyone is up and super hyper for a hour.
But I am currently taking advantage of that nap time to get spaz use to walking around on the desk being a bit tired she is less prone to being scared and will be open to exploring things instead of staying in one spot. Now it is 11pm and they are not moving around much they can go back into the cage to sleep normally.

cerial

Full Member





Join date

: 2021-05-30


Posts

: 79



Similar topics
---
Permissions in this forum:
You
cannot
reply to topics in this forum