Hi there everyone!
First time posting so please ask any and all questions and forgive me if I forget to mention something important.

I've had my mischief of 5 females for a bit more than half a year now. They'll be 1 year old in December. They are from a hobby breeder, all sisters from the same litter.

One of my mice, Persephone, has started acting a bit strange yesterday. I was at my parents place and came home at around 7pm. She was sitting at the front of the cage in plain view looking like she was asleep or dozing. The girls NEVER sleep alone. You can only find stragglers out and about to eat, drink and play, but they soon return to their collective multi chamber hide. The only time you will see one sleeping alone is in their tiny little extra hide, when the others are up and about. Even then you'll usually find another girl squeezed in there. But you'd never see em sleep out in the open like this. She seemed sleepy or lethargic but her ears or eyes aren't droopy. She just doesn't move around as quickly as usual.

She also breathes in a sort of twitchy or laboured manner? Or will suddenly twitch up from the spot she slept in. At first I thought she may be constipated as her tummy looked a bit larger than usual, however some of my girls are barbers and Percy has bald spots arund her shoulders, making her tummy look bigger. I've tried feeling her tummy and couldn't feel anything hard and she didn't seem to be in any pain. She also pooped in my hand at that time, so it doesn't seem like she is obstructed in any way. She eats and drinks normally.
It's mostly the twitching and sleeping alone that worries me.

She is back in the hide now, but she especially seems to sleep outside during the day. I'm in europe so it shouldn't be heat keeping her out all day. I tried finding a similar forum post and googling but couldn't really find anything fitting.

I'll try to find a way to add a video of her twitching to this post so you can see what I mean.

I'd be very grateful for any pointers!

llavabutt

New Member





Join date

: 2021-11-15


Posts

: 3





she "sleeps" while breathing heavily, then cleans herself and has another big twitch at the end.

llavabutt

New Member





Join date

: 2021-11-15


Posts

: 3



Happens all the time.
I have a mixture of over 20 deer and fancy mice. There is only 2 times a day where everyone is up and everyone is sleeping. Otherwise there is always someone running around or someone sleeping.
Sleeping out in the open is usually a domance move. Here is one of the mice sleeping with his head in a tunnel between 2 cages so he can check that passes.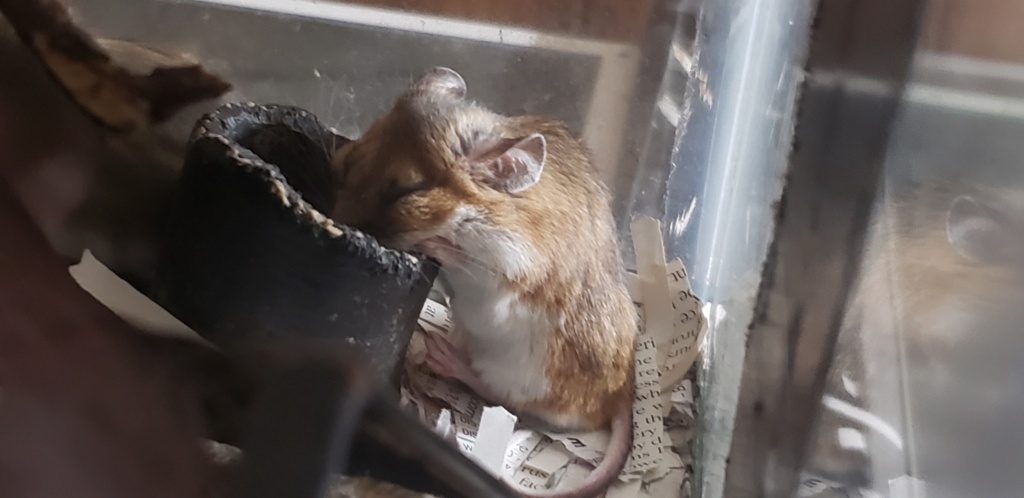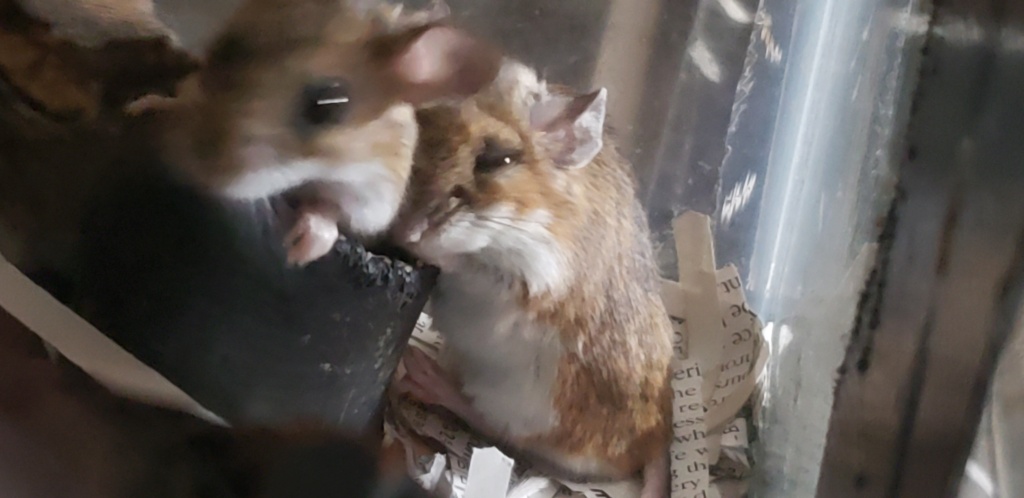 Here is one of my fancy mice sleeping on top of a box she wants to sleep with the deer mouse. But the deer mouse just wanted to sleep alone that day.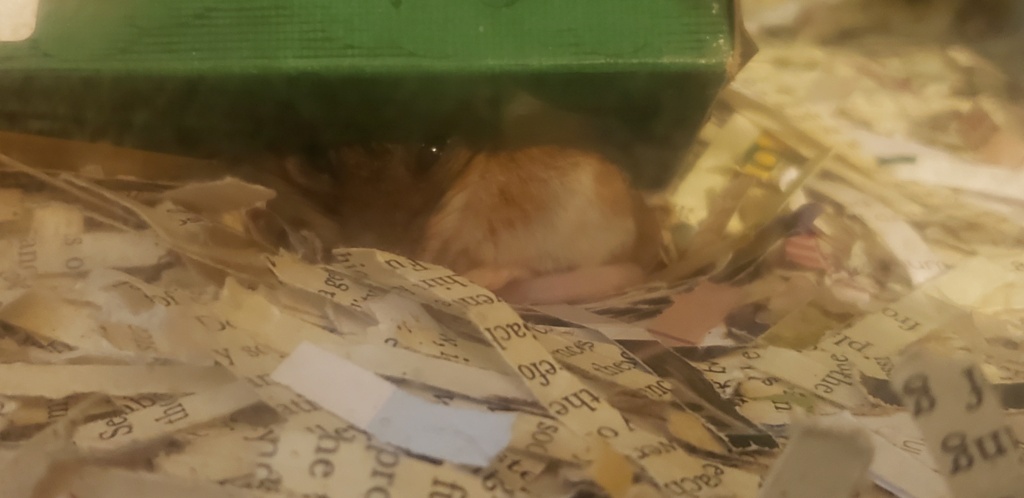 But thats not always the case. Sometimes sleeping alone is so they wont get picked on. I have several one way things like metal containers with one end capped or a stick with a edge that they can sleep on where if the mouse wants to approach the sleeping mouse will know ahead of time.
Here is one of my older males. He has times when he can't find a group to sleep with or will just been chasing females around all day and they will pounce on him or chase him oit of a area. I also have a dominant female fancy who can be territorial at times and he finds ways to stay out of her reach. So I catch him sleeping in strange spots sometimes.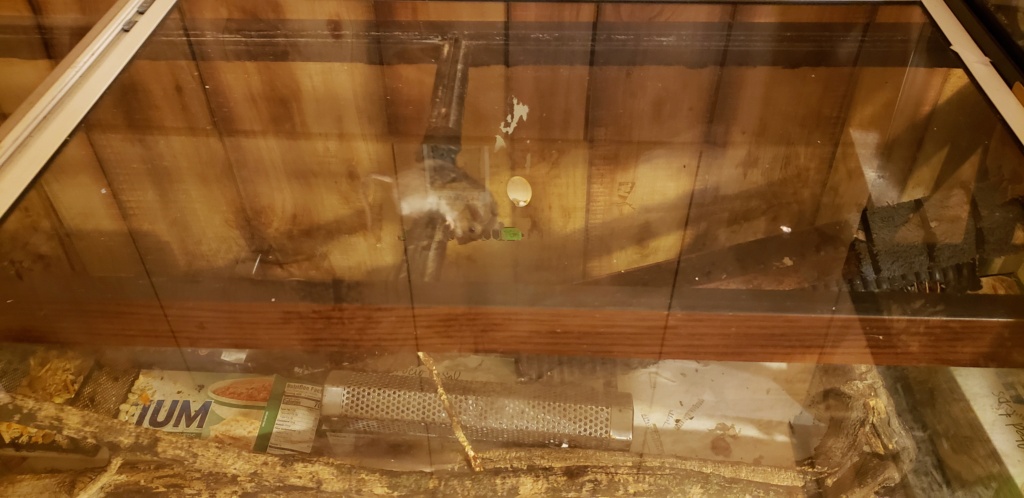 The larger the cage the more spots they will have to sleep. Most of the time if they are sleeping alone they just want to sleep longer then the rest or have a spot they want to have to themselfs.
It does not always mean they are sick, getting into fights, or are being heavily dominated. But it can.
It is mostly them just wanting to sleep alone that day for various reasons and usually within a few days they are sleeping back in the group.
Watch for injuries or her getting sick. But for the most part it is just them wanting to sleep alone for a bit.

cerial

Full Member





Join date

: 2021-05-30


Posts

: 80



Poot and llavabutt like this post
Thank you
@cerial
!
I am a bit of an overthinker. This is my first mischief, and I lost another pet early this year to sudden illness. I just wanna keep my girls happy and healthy! Their tank is a 53 gallon.
I did notice a new bald spot on her back tonight. I'm thinking she might be trying to avoid her sisters' barbering. I've never seen them fight in an aggressive manner. She doesn't have any injuries either. I think she may just be the runt of the litter, so to say.
I'm keeping a close eye on her to make sure she is eating, drinking and otherwise active.
Again, thanks a lot for all the info and funny photos!!
I appreciate any input. All the best to your lil horde!

llavabutt

New Member





Join date

: 2021-11-15


Posts

: 3



---
Permissions in this forum:
You
cannot
reply to topics in this forum