Recently my two mice seem to be getting bored in their tank. They have been climbing on the top and occasionally wall scaling. I'm planning on upgrading them at Christmas, to an ikea detolf, and getting another mouse or two to join them. How can I keep them happy until then?
Cage information:
20 gallon tank (long)
360 square inches of floor space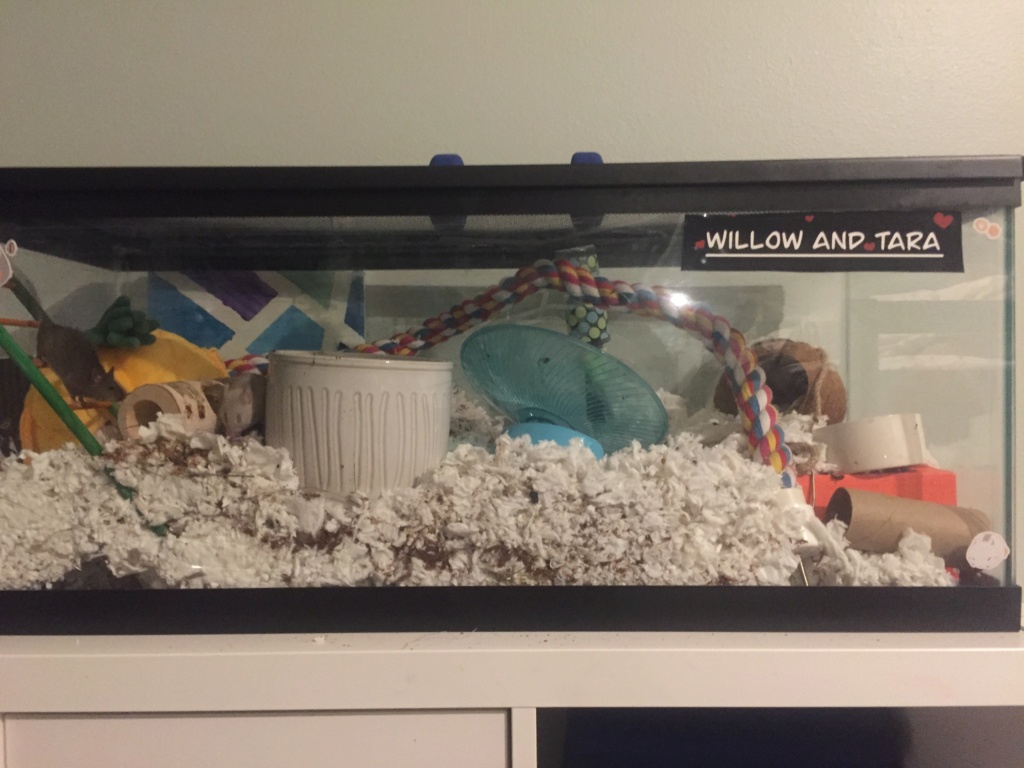 I am currently using kaytee clean and cozy and eco earth (in the little ceramic pot)
Two above ground hides, as well as a box under the bedding that they made a nest in.
A bird rope toy that they really love to climb on and a ladder
A flying saucer wheel (I think it's like 7/8 inches, but I'm not sure.) but I plan on getting them a normal wheel soon.
I feed them mazuri rat and mouse blocks, as well as tiny friends farm rat and mouse food. I scatter feed the tiny friends farm food and mix it into the eco earth. They have some chew toys, but most of them are buried or shoved in weird places by now. I am at a loss for how to keep them entertained until I can upgrade them and any advice would be appreciated.

Salvsop27

Jr Member





Join date

: 2021-11-07


Posts

: 20



here's a few things i do to keep my mouse busy !
i like to rip up some cardboard/newspaper and mix it in w the bedding
somw days i scatter feed his food but other days i put it into a foraging toy so he rlly has to work for it (i'll link a video for some diy ones below)
i suggest adding some more hanging toys / hammocks for them
rearrange their cage/add new things around every week, they love just exploring their stuff again !!
i also suggest adding more vareity in their food, like various seeds or pasta. im pretty sure there's a post somewhere on this forum about ssafe foods ! also giving them vegetables every couple of days (if you dont already) might be fun for them !!
heres the video i was talking about earlier, most of these are done with just toilet rolls so its extra easy !
https://www.youtube.com/watch?v=6Wc9BjIpyeg

scooter :D

Jr Member





Join date

: 2021-08-12


Posts

: 21






I have 6 different kinds of food mostly oat/wheat cereal(no corn ever) with things like almonds or fruit pieces inside. They dig for the almonds and also carry off the food.
Every two weeks I clean the cage washing everything plastic or metal before everything is wiped down with new bedding going in. I replace the sticks giving them tons of new chewing things  and climbing routes. I put in new cardboard boxes with one side open or holes made into the boxes. I throw out the dirt in the dig box and replace it with new dirt and grass.
I try to move things around keeping the food and water in one spot so they are often exploring for a few days before building nest.
I try to introduce something new every month. Last month that was a stainless silverware thing with a mesh back and several dividers. The month before that I found a small 4" ish wheel thing that the deer mice love.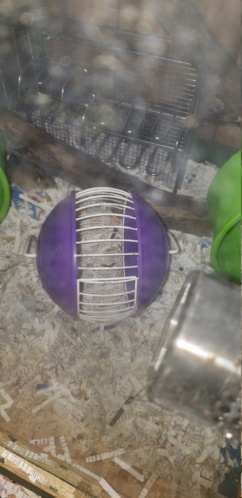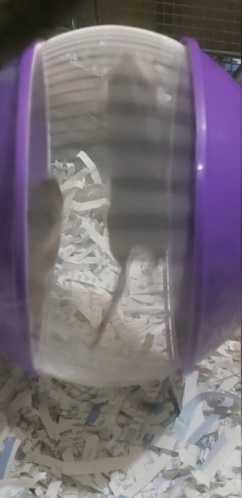 Besides the toys you can introduce one or two day things. Bubble wrap is one of those things mice love. The bigger the bubbles the better and at least 12" so they don't carry it off. Plastic bottle caps(with the ring removed) with a drop or two of dried soda inside will have them carrying it around. 4" square pieces of a t shirt/jeans/towel can make for a few interesting days and short term bed or hide.
Of course these are all throw away things. But most are a cheap to free way to provide enrichment.

cerial

Full Member





Join date

: 2021-05-30


Posts

: 68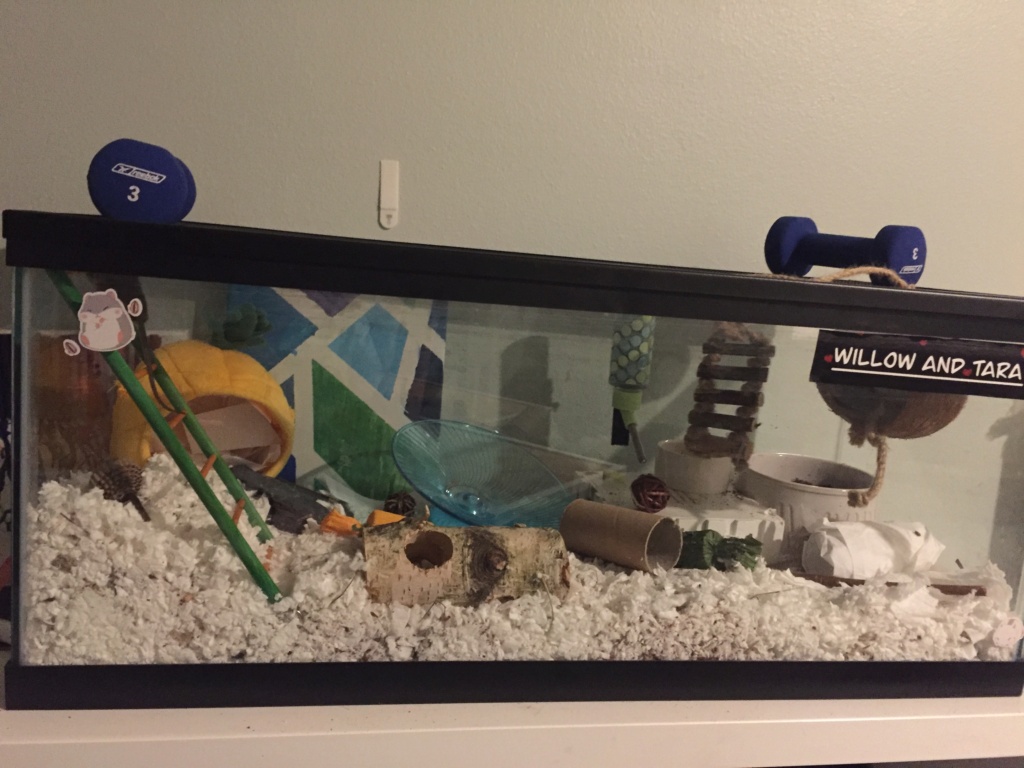 This is this weeks setup, and they seem to like it a lot more. I put a bunch of paper in with them, and they shoved it all into the fleece pineapple thing. I also put a bunch of their food into willow balls, and mixed in with the eco earth. They gave a bit less bedding than before, but that's just because I was running low. I also hung some more things from the top, which they absolutely love, I'm looking into buying more hanging things for them. Tysm for your help

Salvsop27

Jr Member





Join date

: 2021-11-07


Posts

: 20



scooter :D likes this post
a 20-gallon tank is a bit too small. The minimum is around 40 gallons. With a bigger tank, your mice will be less bored.
_________________
MY MICE
 Zephria
 Cheyenne
 Persephone
RAINBOW BRIDGE
 Veda
  Paris 
  Hester 
 Megan
Greta

Buggirl13

Jr Member





Join date

: 2021-10-08


Posts

: 37






really sorry, I should learn to read the whole post before responding. I didn't see how you said you were going to upgrade, I hear Ikea detoffs are great enclosures for mice.
_________________
MY MICE
 Zephria
 Cheyenne
 Persephone
RAINBOW BRIDGE
 Veda
  Paris 
  Hester 
 Megan
Greta

Buggirl13

Jr Member





Join date

: 2021-10-08


Posts

: 37






I often cut a small square from a thick cardboard box and stuff little treats like a sunflower seed, pumpkin seed, and even a little bit of cookie in the honeycomb little openings at either end. I either put them on the floor of the bin or hang them up within reach. They just love digging and chewing the treats out.

SarahAdams

Sr Member





Join date

: 2020-08-18


Posts

: 205



scooter :D likes this post
I would recommend a larger cage to allow for more toys, more supplies, and more bedding. especially for multiple mice. Mice do very well when they have more space than they need. my mouse has a 1152sq inch cage yet he still sometimes gets bored when it is filled with toys and bedding and enrichment. the trick is changing up the setup often. I would recommend at least 7 inches of bedding to allow for optimal burrowing. I would recommend making a bin cage if you're on a budget or even making a custom cage. I would recommend at least 600sq inches. using things like homemade toys can be great and affordable. half of the things in my mouse Jorge's cage are made of cardboard or wood. I think it's good to scatter feed and to interact with them for about half an hour everyday. filling their cage so they have to maneuver around their toys is really enriching for them. they also benefit from a lot of hanging toys, too. you can use simple rope from a craft store, bird houses, boxes, tunnels, hides, and much more.

Mel

New Member





Join date

: 2021-03-05


Posts

: 3



Buggirl13 likes this post
---
Permissions in this forum:
You
cannot
reply to topics in this forum