I just don't know what to do. If anyone has had a similar experience or any advice (or knows someone who does), PLEASE share with me. Honestly, he's my lifeline.
Context and veterinarian input:
For context, he is a Deer Mouse, orphaned as a baby and hand-raised. He's 3 years old, and they can live up to 10 years (but typically 7 from what I've observed). Regardless, this shouldn't be an age-related problem.
He weighed 1.1 ounces (31 grams) consistently from February-September 2021. Hence, I stopped weighing him regularly, as I didn't think it necessary (stupid).
He weighed in at 0.8 ounces (22 grams) a week ago, so I called our usual veterinarian. She analyzed a stool sample and didn't see any parasites.
I was given a protein supplement (Harrison's, for birds) and vitamin drops.
He's been consuming the feed every other day (among many other things), and the vitamins daily.
And yet, tonight, he weighed 0.7 ounces (19 grams). He is visibly slim now.
If he loses more, I am afraid that all hope will be lost on a gradual decline. With all I've been giving him, I can't fathom HOW he is still losing weight.
The vet has tried her best to advise over the phone, and apparently there are no tests she would be willing to subject him to, to investigate a possible cause.
She said doesn't want to stress him or hurt him, and anyway, he hates strangers but due to the pandemic, I wouldn't be allowed inside to help handle or calm him. So further vet attention isn't plausible or beneficial.
Diet:
His main food has always been Versele Laga Complete Rat & Mouse.
Alongside various (randomized) organic grains, fresh vegetables, and occasional organic (single ingredient) baby food.
His diet has a ton of variety from night to night. No new foods have been introduced in the past month. And when in the slightest doubt, I avoid a food entirely.
And now, he gets a helping of this "Harrison's" bird stuff (...which lists a whopping 20% crude protein, but I haven't observed any reactions like hot spots or itching. Also, to my - admittedly limited - understanding, the amount of protein listed isn't always the amount that the mouse receives.)
What's killing me is that he seems GREAT in all other aspects. Active, bright-eyed, clean, hygienic, responsive... his breathing is quiet, appetite is great, poop is regular and fine color/shape. He doesn't feel cold or hot. I can feel his spine, but I'm not sure if it's excessively detectable.
Questions:



1. Has anyone had this happen to a mouse and was able to help them?

2. What (natural) foods are tried and true to gain weight quick? (I'm going to be getting a burner so I can make eggs, chicken, pasta.)

3. What possible indicators could be present if this were an internal organ problem? Or diabetes?
- And might the signs of sickness be different, or even non-observable, since he's a Deer Mouse and could be hiding all signs of weakness? He is tame, but not domesticated, of course.

Observations:

- He hasn't been in a petting mood recently. And he spontaneously, audibly squeaked at me last week, which hasn't happened since he was a baby.

- I've noticed some little hiccup motions, which - from my research - seems to be relatively normal. It doesn't happen often and is fairly subtle, and silent.

- I've also observed his typical "wintering behavior", which entails him foraging his food, stuffing in his cheeks, and burying it. When I clean, I find these stashes intact. Which makes me wonder if maybe he's stashing too much and not eating enough.

Any response much appreciated... I'm dying to know if I can do anything at all for him. Thanks for reading.

Mouserinks

New Member





Join date

: 2019-09-26


Posts

: 6






I have a few deer mice.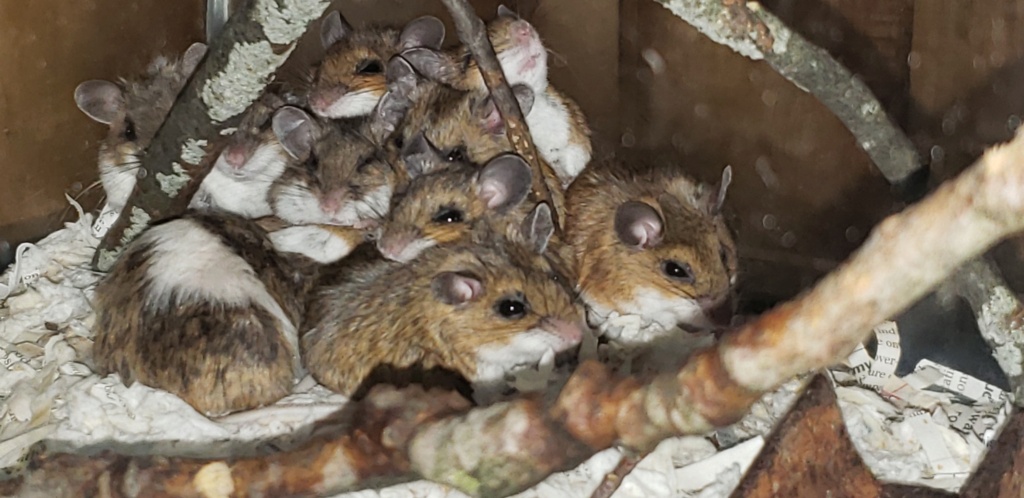 I caught a mouse in a 2 liter live trap and kept her in a tank till the weekend. The next day she had a liter and I have raised the pups and resulting liters since along side my fancy mice.
This makes up 1/2 my mice diet.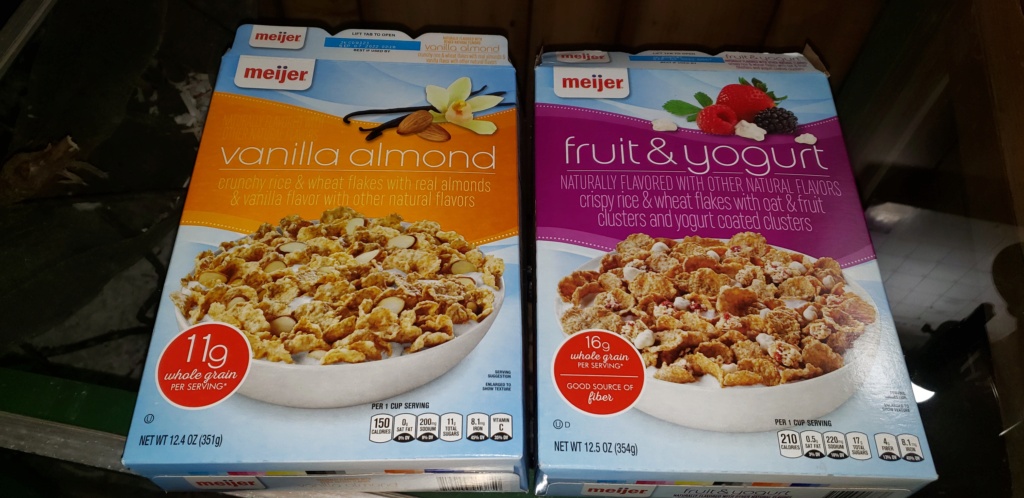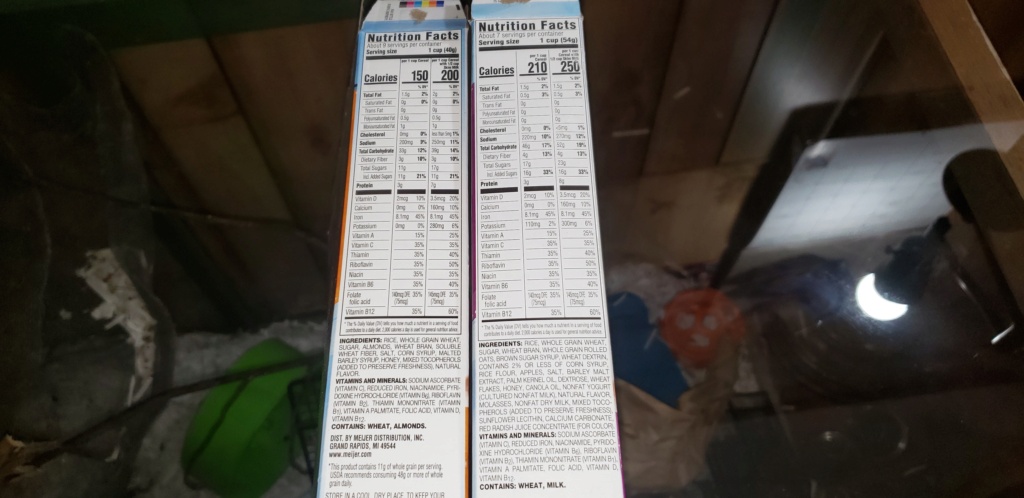 They love almonds and the yogurt clusters are nice also. I have one male who can tell time. He knows at 730 am I put new food in. He will sit next to the food dish from 7 till 8. Soon as new food is put in he digs through the pile throwing out other food a bit aggressively looking for almonds.
So know they can be a bit agressive over almonds. But you can also feed them these almond pieces by hand. They are great training treats.
Pasta, bread, and puffy foods can help with weight gain. I buy cinnemon twist from toco bell just for the mice from time to time. I brush off most of the cinnemon then break them up into small pieces. I will also throw a end piece of "white" bread in from time to time. This is more of community thing with several of them eating it at once and them all getting along dominant or submissive. Cooked pasta noodles make for a fun treat to feed them by hand.
You need to be careful with baby foods or other pasty foods. They can take big "gulps" and cant throw up so they will choke on the foods. I would spread stuff like baby foods or peanut butters very thin over bread if you continue that path.
If you want to do eggs then fry the egg in a skillet before letting it cool. This makes the egg flatter and requires it to be torn so the mouse can not take big bites.

cerial

Full Member





Join date

: 2021-05-30


Posts

: 80



(Apologies for delayed reply; I'd kind of given up on receiving any responses after posting in several places. There seems to be a reluctance when Deer Mouse are involved.)
Wow, a whole pile of Deer Mice! How precious
Thank you for the valuable tips!
He has weighed at 0.7oz every night since. No drops, but also no gains yet.
Silly enough, I hadn't considered that baby food could pose a choking hazard. And it looks like I can make skillet-style eggs in a pan, for budget's sake.
A few days ago I called another veterinarian to ask for additional advice - he brought up the possibilities of too many anti-nutrients (like lectins) coming from raw grains, peas, and pumpkin seeds. I was advised to either alter the frequency of these offerings or opt for cooked versions, and depend more on his usual feed (Versele-Laga) and supplements where needed.

Mouserinks

New Member





Join date

: 2019-09-26


Posts

: 6






Similar topics
---
Permissions in this forum:
You
cannot
reply to topics in this forum