I just caught a larger hopper mouse in my basement. It's way too cold to release it outside, so I'm going to try to care for it until it's warm in 2-3 months. Named Vita, it's currently in a plastic bin with paper towel shreds, a cardboard tube, a small shallow dish of water, and another dish of cooked peas. Once stores open, I'll get a good setup from a local pet store.

I think the mouse is 3-4 weeks based on it being over 2" long when it's not curled up, not counting the tail. A previous house had a mouse infestation and this hopper is definitely one and half times the size of 2-week old babies. I found. It is way too scared of people for me to try and give it milk. I'm hoping it's old enough to be weaned because there really isn't any other option. I'm trying to figure out what to feed this baby. Every site seems to give different suggestions. Wet mushed up pellets seem to be the best, I think? Do you guys have any suggestions for food? Or any other tips? I've never had a small pet like this before. Thanks so much, from me and Vita.

dolphingirl369

New Member





Join date

: 2022-02-24


Posts

: 2



Use a 10 gallon with a mesh lid. A wheel is sudgested or it will just hide the entire time. Also place a piece of outdoor wood(branch) flat in the cage amoung the bedding for it chew on.

If it has fur and its eyes are open it can eat solid foods. But you can also feed it chicken pieces pulled off the bone(no bones), cereal that has almonds in it, and egg pieces around 1/4". That will fatten it up.

Try to release it as soon as it is above 30 degrees. Perferably by a pine tree as that will allow for it to be warm under the branches that touch the ground.

cerial

Full Member





Join date

: 2021-05-30


Posts

: 80



cerial wrote:Try to release it as soon as it is above 30 degrees. Perferably by a pine tree as that will allow for it to be warm under the branches that touch the ground.
The baby, renamed Mickey, is too small to survive on his own, most likely. He has nesting materials but has shown no interest in even examining them. I'm almost certainly going to have him for his whole life. I posted on reddit about this as well, and just posted an update here:
https://www.reddit.com/r/PetMice/comments/t1nisf/update_for_caught_wild_hopper_mouse_with_pictures/

dolphingirl369

New Member





Join date

: 2022-02-24


Posts

: 2



Well having I get that. Having several myself.
Couple things you need to know about having a deer mouse.
They like to run and jump. I would be looking for a used 20 gallon long or larger long tank. You can get the tank used and save a good amount of cash. Make sure the mesh lids are good quality.
A piece of single payne exterior glass off a screen door or trailer (free via Craigslist) has worked great on my tanks for lids. It gives 1/8" gap around the entire tank which is enough to let fresh air in while being to short for them to squeeze out.
I use lots of sticks from outdoors which makes for great climbing, jumping, chewing things that can be moved every 2 weeks when you clean and replaced every 4. Just wet them down lightly with a garden hose for 5 to 10 minutes to clean off any bugs etc. I take it a step further and place mine in the shower and hit them with very hot water for 10 minutes on a light shower head setting before letting them dry for another 10. Place a junk towel around the drain and that will catch the debris then just wash the shower after.
You want 2" of bedding until you train him to know what to do during cleaning. Any less and he may get hurt from falling. Any more and he will make tunnels and will be hard to find/may escape when cleaning.
Now you need to know you can't play with deer mice. I have trained several of mine to come and take treats. But I cant stress just how fast they are and how high they can jump. Now your biggest thing you need to train him on now is to find a container you can place in his tank for him to go inside.
I use this thing.
https://www.amazon.com/Stainless-Smoking-Billowing-Smoker-Cleaning/dp/B07PHSLNJ3
You just place a treat in the end and let him go in before using a piece of cardboard to cap it. Set it in a temporary 10 gallon tank with mesh lid and have it full of treats which makes cleaning the big tank something he wont fight.
Next thing is to train him to drink from a water bottle. You may need to use a dish at first. But this gets dirty real fast. Use a stick on one and angle it so he cant sit on the top.
I have a few of these.
https://www.drugsupplystore.com/products/ra-quick-lock-cage-snuggler-bottle-aquarium-cage-5-fl-oz.html
They can be tilted and stick on anywhere. Use a tiny bit of peanutbutter on the end at first to let him know where the water is.
For food I use cereals.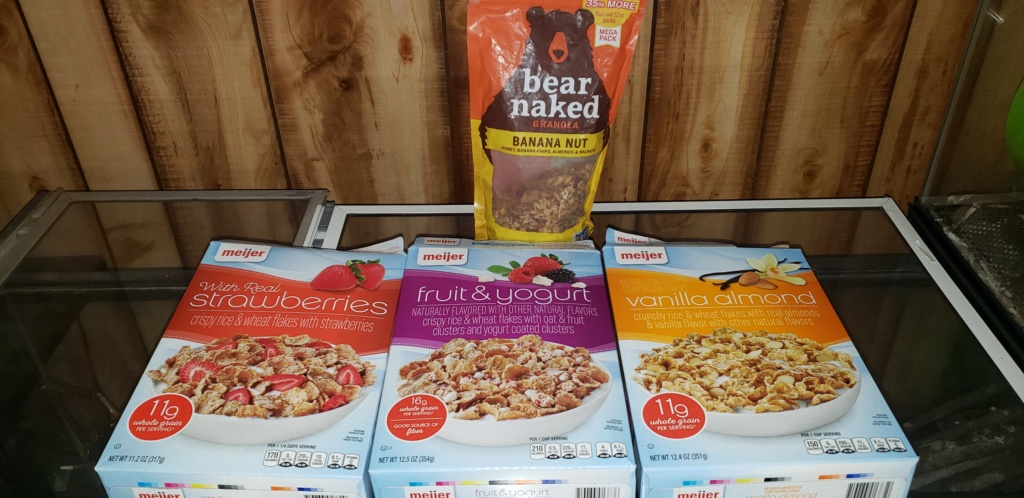 Whole grains and oats with a few treats mixed in. Stay away from anything with corn in it. Corn causes all kinds of issues in mice.
Go into this knowing that deer mice are tough and will often out live fancy mice. I would plan on 4 to 6 years if you keep him healthy where a fancy may get 1/2 of that. With that being said it is totally up to you. But a single mouse can be a great thing for training. But I am in the group that would like to have 2 mice in the cage at all times to keep each other company. A male deer mouse and a female fancy will not mate in my experence. I have 3 male deers and 6 fancy any never had any pregnant fancy mice. So that may be an option if you want to add a cagemate. Of course not being able to handle or seperate the deer mouse will make things tricky training the fancy. I also dont play with the fancy much outside the cage as it is not really fair to the deer mice who can not play outside.

cerial

Full Member





Join date

: 2021-05-30


Posts

: 80



Similar topics
---
Permissions in this forum:
You
cannot
reply to topics in this forum