i got a group of 3 girls !! ive been wanting to adopt from a breeder/rescue but i couldnt find any near me so i sadly had to buy from a pet store.
their names are freckle, echo, and baby dior !!! i believe freckle and echo are from the same litter bc of their similar markings and they are the same size, while baby is a bit bigger than them. one thing i am worried about is the amount of arguing ive heard. baby often chases the other girls around the cage and they squeak which is normal (?) but even when she comes near one of the others they get upset. im not sure if this is normal or if i should seperate them but let me know !!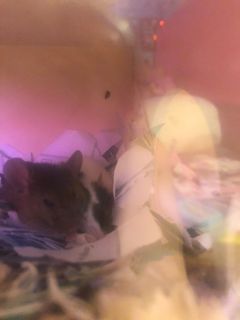 the all brown one is baby dior, the one with black on her face and butt is echo, and the mainly white one is freckle !! (she has a little black spot on her butt and tail)

scooter :D

Jr Member





Join date

: 2021-08-12


Posts

: 21






Nestmouse222 likes this post
I got 5 of my pet female mice at a pet store and two of them were from a store that sells feeders (white mice). The last 3 female mice I got after these died were from a breeder. I had to go about 200 miles to get them. None of them have the personality of the other first five who were all friendly and easy to socialize. The breeder mice run away when I tried multiple attempts to get them to socialize with me. It is very disappointing. When I leave my hand in their cage they run and hide until I take my hand back out. for They also seem to have more health problems. I just paid $900 for a vet visit yesterday for one of them due to constant scratching (she is now on 5 different medications now to try to stop that including antibiotics and mite medication every 2 weeks). I never had many health issues with my feeder mice or pet store mice. The only down side about feeder and pet store mice is that they develop cancerous tumors at about one year of age and I have had to euthanize them. I am still crying over my incredible pet and buddy Minnie who I had to euthanize in April. She played with me every day for 4 hours for the past year. She loved to cuddle inside my robe and listen to me talk to her. She would stand up on my shoulder. When I made spit wads on the floor in her playground she would carry them around in her mouth and run under a box with them. She came running every time I called her name. She wanted to be with me every second of the day when she was not sleeping. Her similar sister Maggie also loved to sit on my shoulder, tickle my ear with her nose, and sit on my head. My breeder mice want nothing to do with me. Maybe that is not happening with other mice moms with mice from breeders but that has been my experience. When I get more mice, I am going back to the pet store even though it just about kills me when I have to put them to sleep.

michelelaforte9@gmail.com

New Member





Join date

: 2021-04-30


Posts

: 9



Also, there is always one mouse that has to be dominant in a group of females, unfortunately, and I don't know why but that is a fact, and squeaking can be common when the "bully" picks on one of them but if there is fighting that draws blood you need to separate them.

michelelaforte9@gmail.com

New Member





Join date

: 2021-04-30


Posts

: 9



Interesting. I had a similar though much less dramatic experience. My first trio were feeder mice (not all white), but they were bred randomly as feeders. One didn't make it to a year, and the other two died at about 14 or 15 months in the same week. Unfortunately I think the second died of loneliness because she had no apparent health problems. The other one had a tumour and was having seizures. Their health seemed to decline much more quickly than the group I have now. It was sooooo sad. This trio also seemed to have more personality. One of these girls (Maxine) was similar to your Minnie. She loved hanging out with me and came to her name. She was super sweet. My mice now are from a breeder, and overall are healthier, although one has had a number of problems, including sensitive skin. She lost a lot of hair and was super itchy. But her sensitivity got everyone treated for mites and now everyone is happier and less itchy, and all for the same vet bill so that's good. They like being pet, and aren't afraid of me, but no one loves me like Maxine, and their personalities don't seem as distinct as Francis and Patrice (the other two in my first trio), but it could just be my perception. They are all pretty sweet. The only thing I'm sure about is that none are as people crazy as Maxine was. She was such a sweet heart!!! But they are now all approaching a year and doing much better than my first group as doing at a similar age, so I'm hoping for less abrupt little tragedies.

Loving.pests

New Member





Join date

: 2022-12-30


Posts

: 11



---
Permissions in this forum:
You
can
reply to topics in this forum