Hi everyone. So on Monday we found a momma mouse along with 3 babies here in my house. We were able to trap them all and place them in a box with a fake "door" that the momma could chew through but not immediately after opening the trap for them, otherwise we were scared she would abandon all of them immediately.
We placed them in a tall grass area where other people wouldn't see the box at all. This was Monday night btw. On Tuesday evening I decided to go there and check if she had been able to open the "door" and she was. I checked if she had relocated the babies, but unfortunately she left one behind. I left him there until night to see if she would come back to pick him up but she didn't.
So I went and brought him home. As it was already late, I couldn't go out to but kitten milk (I live in Brazil so goat milk isn't found here). I bought pedialyte from a drug store and started giving it to him every 2 hours. The issue is that he is really bad at drinking at all. I am using a tiny paint brush because he's super small.
I'm concerned because he's also underweight, and I never really saw a milk belt on him. Yesterday around 12pm I was able to get the kitten milk and started giving it to him by diluting the strength in half, which is what I mostly saw people saying. I believe he might be around 6 days old? When I first got him on Monday he already had some color on his back so I believe it could've been day 4 for him?
I'm just concerned because he's severely underweight. And he also doesn't eat much. I calculated the amount he should be eating, I think it'd be around 0.25cc? He weighs 5g. I have been trying to force feed him, like, he will wiggle nonstop and when he gives it a rest I go with the paint brush and put some into his mouth, always careful not to accidentally touch the nostrils. He's been pooping and peeing just fine. Isn't bloated at all. I'm just having a hard time because he doesn't stop moving and will often refuse to take the milk after probably 4-5 times I feed him
and btw I'm keeping him in a box with a heat source underneath as well, and covered in a blanket.
I really am scared of losing him since I have gotten so attached already, but ik that at this age it's hard to keep them alive without the mom...
Thank you in advance for any advice that could help me save him

camelliasong

New Member





Join date

: 2023-10-12


Posts

: 2



This channel has the best advice I've ever found: https://www.youtube.com/watch?v=sNX2byHbppM

Wolfie65

New Member





Join date

: 2020-03-13


Posts

: 9



camelliasong likes this post
Have you had any good luck with mousie?

A few things to keep in mind about trying to put calories into baby mice:

1)  Their tummies can only hold so much food, so the key is to increase the calorie content of what they take in, not to try to force-feed more food.

2)  Their natural food is mouse milk.  They are not "engineered" to digest much more than mouse milk.  So if you are trying to increase the caloric content of the kitten formula, it might be best to just "up" the amount of powder a bit.  Adding calories through a little sugar or other natural sweetener will not provide the correct nutrient balance, but it could make the milk more palatable and encourage mousie to drink more.

3)  If mama mouse left baby behind, it may be because she recognized that something was not quite right and it wasn't thriving.  But it's also possible that mama mouse met with some misfortune and couldn't make it back to collect the last of her litter.  Since you don't know what the story is, you just have to try your best and be prepared for, well, less than a happy ending.
_________________
Zephyr
Coco
Bobby
Noche
Paiva
April
I loved you so / I still do / I always will / 'Twas Heaven here with you.

MerciToujoursMaPetiteBoop

Sr Member





Join date

: 2017-10-18


Posts

: 380






Please join the Orphaned Wild Mice and Rats Facebook group. Most kitten formula is not good for rodents, it causes dehydration and malnutrition. The Royal canin kitten formula is good if that's what you have. We can help you on the group if he is still alive, hoping he is doing well

SilverGravity

New Member





Join date

: 2020-07-14


Posts

: 16



Hi all! Thank you for the replies!
He's alive so far and seems to be doing well apart from dehydration at times. I took him to the vet twice for subcutaneous fluids, and she taught me how to do it myself when needed.
He's been eating a lot better now, and I can finally see his milk band. Unfortunately we don't have royal canine kitten formula and I also don't have Facebook anymore
I'm getting help from a person on Reddit who is quite knowledgeable since they've worked with rehabbing mice, so that's been amazing!
Here's a pic of how he currently looks like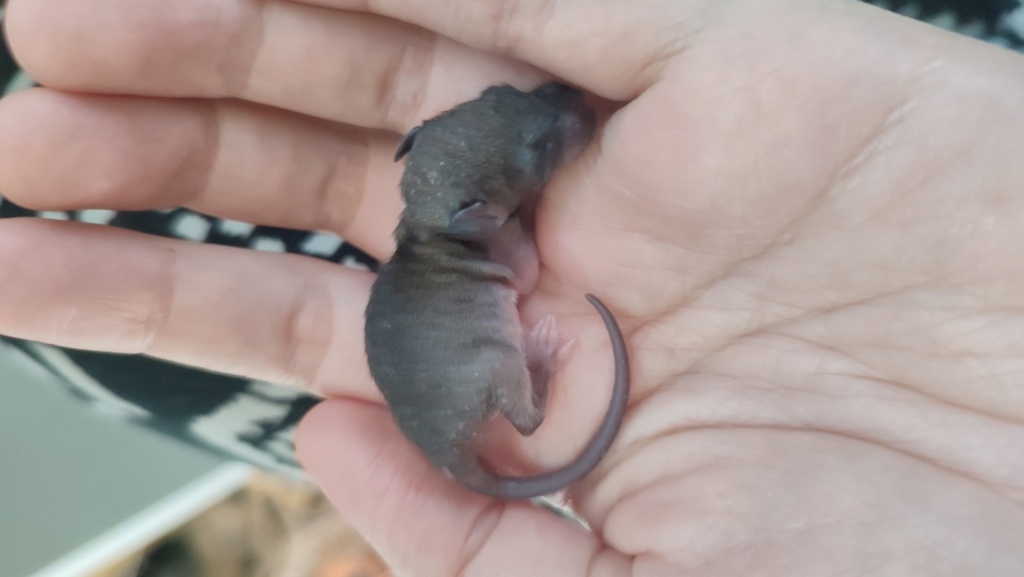 Edit: found an old fb account and posted in the group hehe

camelliasong

New Member





Join date

: 2023-10-12


Posts

: 2



---
Permissions in this forum:
You
cannot
reply to topics in this forum