+3
Rodents rock!
olimarthemouse
AnonONIagent
7 posters
I woke up just a moment ago to find this adorable sight. I knew I had to snap a picture and share.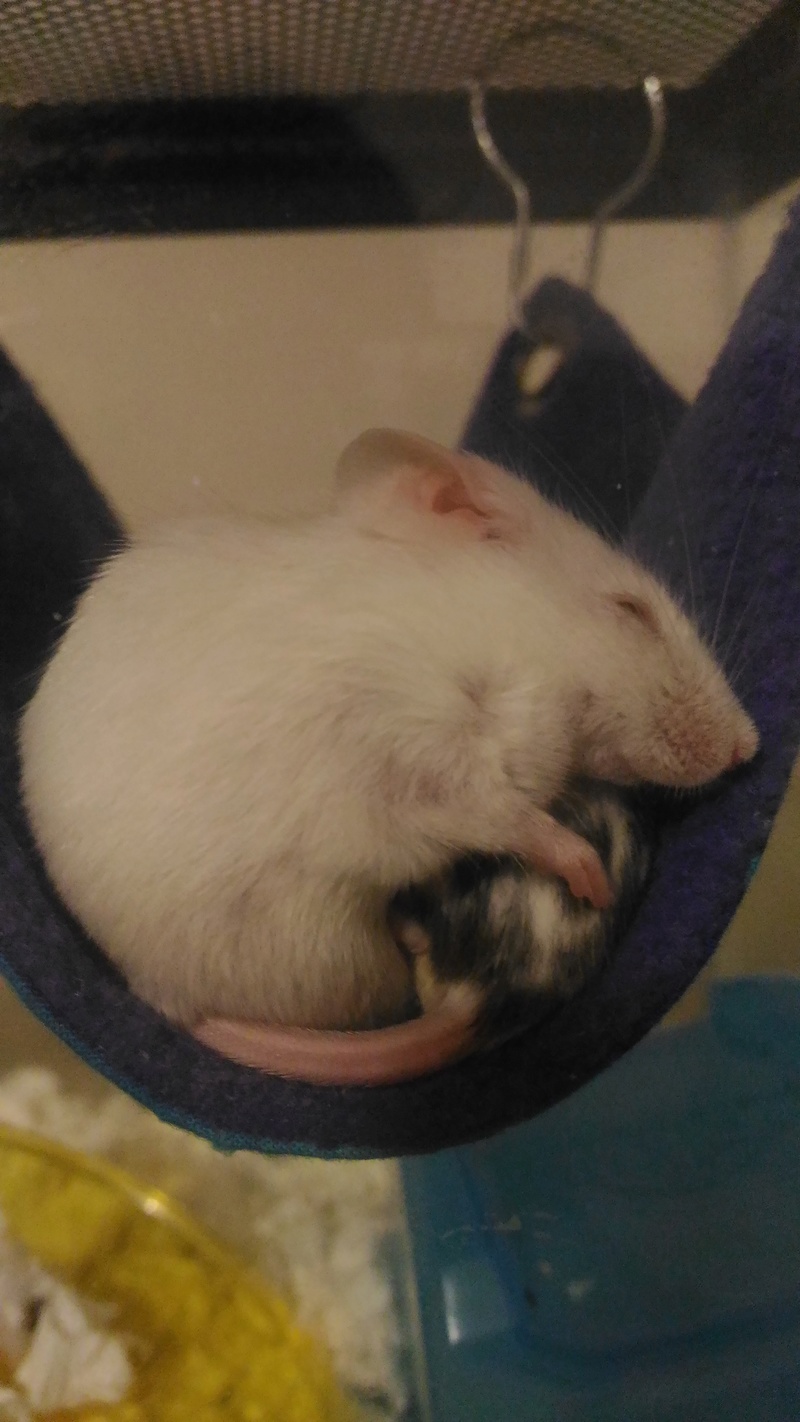 As you can see, Sally is curled up in the hammock against the glass and around Selina. Considering how much these two squabbled when they were first introduced, it's amazing how well they get along now!
Last edited by AnonONIagent on Sat 06 Aug 2016, 9:31 am; edited 1 time in total

_________________
"Heralds of the coming doom, by cry of raven, we are drawn. This oath of war and vengeance, on blade of exalted iron sworn. With blood-anointed swords aloft, advance we into dread's dark shade. Punishment divine unleashed with hate, a wrathful storm of bolt and blade. Purge with plasma, fist, and shell; bring cleansing fire's righteous breath. For the Emperor, knights of Caliban! The Lion's anointed Angels of Death! No forgiveness. No retreat."

My current mice: Sally (PEW), Selina (Broken Black), and Olivia (Broken Tricolor)

Rainbow bridge: Molly (PEW), Lucy (Brindle), and Sarah (PEW)
That is so adorable!!! Thanks for sharing!

Rodents rock!

Hero Member





Join date

: 2016-06-27


Posts

: 1818






So sweet!

Peachy

Moderator





Join date

: 2016-04-06


Posts

: 3164






aw, that's the best. i love seeing them snuggle!
_________________
Lady mice
: stormy, Dahlia, lily, Ella billie, coco, maggie
Gentleman mice
: milo, jimmy
Other pets
: Little Buddy, Kevin (cats) robert, lulu, Englebert, harold, Gerald, Zumi, nico, charlie, (hamsters), stella (gerbil), Gilly (hedgehog)
 Penny, Honeybun, Lucy, Annie, Gilly, Furgie, Tedward Wigglesworth, Olivia, Goose, Sweet Katie, Binky, Delilah, Bitsy, Boopers, Sprout, Splotchy, Eva, Slappy, Shuggie, Fancy Pants, Jellybean, Charlie, Murray, Sally, Maya, Gunther, Lil Smokey, Magnus, Norman, Winnie, Sally, George, Harriet, Spec, Erzulie, Lucille, Agatha and Clementine.

scaredymouse

Hero Member





Join date

: 2016-04-03


Posts

: 2458









Oh my gosh, that's just the cutest! Splotchy in mouse form!

CallaLily

Hero Member





Join date

: 2016-04-03


Posts

: 3937






Aww, so cute! I want girls so I can have that cuteness myself.

Barbiefly

Full Member





Join date

: 2016-07-08


Posts

: 84






Similar topics
---
Permissions in this forum:
You
can
reply to topics in this forum