He is so hard to get pictures of... he really loves playtime and zips around the whole time.  I finally just shot video and did some screen grabs... so without further ado... Tedward!  He's so round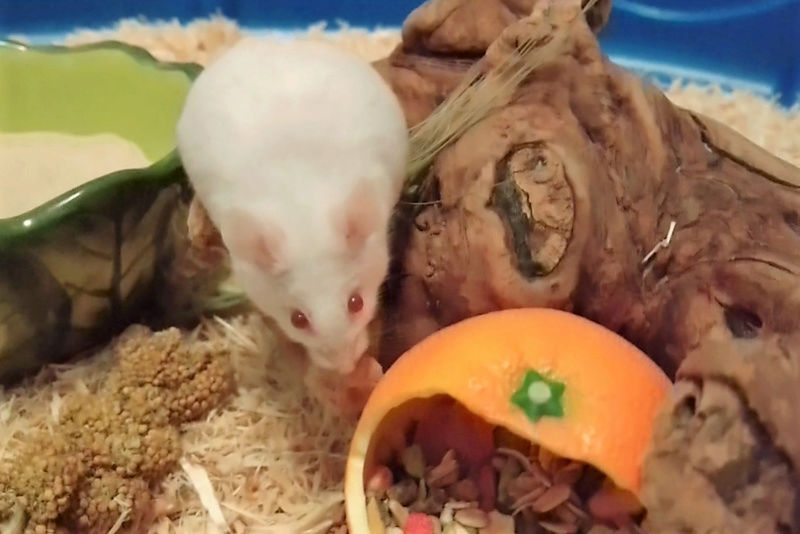 I peeked in the ladies tank and saw this adorable little Jellybean  
they like to sleep in the little frog mouth, but there isn't enough room for everyone. they do their best to pile in there but it's impossible. usually a couple mice will go sleep somewhere else, but with Gilly and Furgie at this stage of their life, all the young mice want to be near them, even if that means sleeping outside the nest. So sweet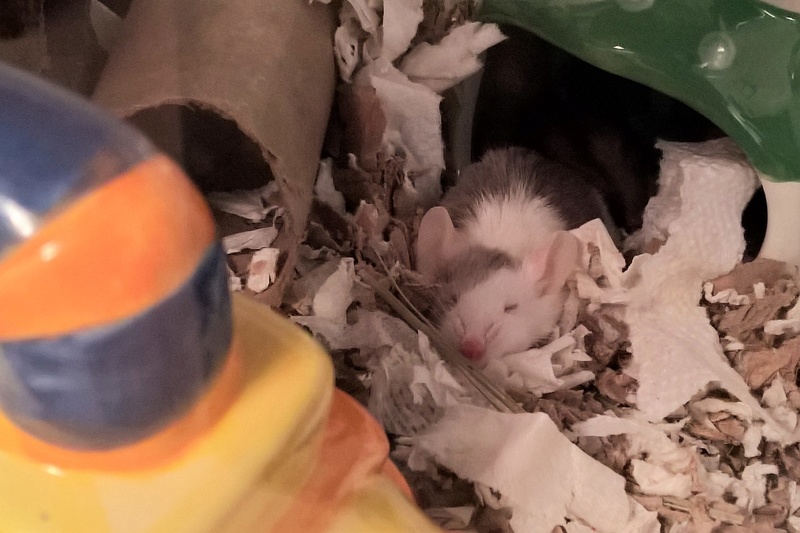 _________________
Lady mice
: stormy, Dahlia, lily, Ella billie, coco, maggie
Gentleman mice
: milo, jimmy
Other pets
: Little Buddy, Kevin (cats) robert, lulu, Englebert, harold, Gerald, Zumi, nico, charlie, (hamsters), stella (gerbil), Gilly (hedgehog)
 Penny, Honeybun, Lucy, Annie, Gilly, Furgie, Tedward Wigglesworth, Olivia, Goose, Sweet Katie, Binky, Delilah, Bitsy, Boopers, Sprout, Splotchy, Eva, Slappy, Shuggie, Fancy Pants, Jellybean, Charlie, Murray, Sally, Maya, Gunther, Lil Smokey, Magnus, Norman, Winnie, Sally, George, Harriet, Spec, Erzulie, Lucille, Agatha and Clementine.

scaredymouse

Hero Member





Join date

: 2016-04-03


Posts

: 2458









He's such a cutie. Love his second one. Adorable picture of Jellybean!!

Peachy

Moderator





Join date

: 2016-04-06


Posts

: 3164






I really do think Teddy is the most handsome PEW I've ever seen. And Jellybean is too adorable - sleeping mice are the cutest.

_________________
Current Mice: None.
Rainbow Bridge: Daisy, Peach, Ivy, Penelope, Hazel, Ruby, Clover, Peanut, Minnie, Ginger,  Honey, Violet, Flora, Fauna and Merryweather.
I love the shot of Ted climbing the driftwood. And of course Jellybean is just ridiculously adorable! It's not even right how she can be so cute.

_________________
~Becky

4 black lady-mice

CAPSLOCK

Sr Member





Join date

: 2016-05-07


Posts

: 177



Tedward sure is a handsome little man! Jellybean is precious, so beautiful! Thanks for sharing photos!!!

Rodents rock!

Hero Member





Join date

: 2016-06-27


Posts

: 1818






Awww! Tedward is soooo cute and round!!! How could anyone have passed up that face? I love that orange food bowl
Aw, lovely photo of Jellybean, too!
_________________
Proud owner of two crazy one year old cats, Salt (grey and white) and Pepper (tuxedo)!
No mice... yet

See my Etsy Shop at www.etsy.com/shop/ArtistwolfDesigns
Similar topics
---
Permissions in this forum:
You
can
reply to topics in this forum