+5
Peachy
MouseLover
scaredymouse
Rodents rock!
Brynne
9 posters
My sweetest Lorca turned 29 months of age on the 13th!  She has outlived my previous oldest mouse (Her paternal aunt, Annalise) by more than two weeks!  This is only counting mice that were born under my roof so that I knew their exact age. My adopted fluffball, Annoushka, was about 29 months when she died in late 2010. I think I might have had an even-longer lived mouse ages ago when I was a teen.
Here is Lorca in a photo taken last week. When she and Sarah Jane were in the playground, I put in fresh newspaper under the water bottle. Instead of setting about tearing it up to add to their nest, they decided that it would be a great place for a nap!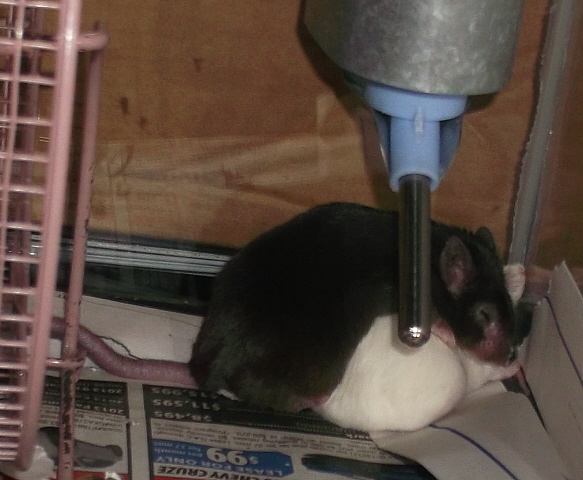 Here is picture of a younger Lorca atop one of her sisters- either Marble or Gemima. They died at about 16 and 17 months of age from their out-of-control obesity.
Happy 29th birthday Lorca!!!!! She sure is a pretty lady.

Rodents rock!

Hero Member





Join date

: 2016-06-27


Posts

: 1818






happy 29th month birthday! she looks absolutely fantastic for her age!
_________________
Lady mice
: stormy, Dahlia, lily, Ella billie, coco, maggie
Gentleman mice
: milo, jimmy
Other pets
: Little Buddy, Kevin (cats) robert, lulu, Englebert, harold, Gerald, Zumi, nico, charlie, (hamsters), stella (gerbil), Gilly (hedgehog)
 Penny, Honeybun, Lucy, Annie, Gilly, Furgie, Tedward Wigglesworth, Olivia, Goose, Sweet Katie, Binky, Delilah, Bitsy, Boopers, Sprout, Splotchy, Eva, Slappy, Shuggie, Fancy Pants, Jellybean, Charlie, Murray, Sally, Maya, Gunther, Lil Smokey, Magnus, Norman, Winnie, Sally, George, Harriet, Spec, Erzulie, Lucille, Agatha and Clementine.

scaredymouse

Hero Member





Join date

: 2016-04-03


Posts

: 2458









I agree - she looks very well for her age
The old mice I had started to look a little scruffy after two years.

_________________
Current Mice: None.
Rainbow Bridge: Daisy, Peach, Ivy, Penelope, Hazel, Ruby, Clover, Peanut, Minnie, Ginger,  Honey, Violet, Flora, Fauna and Merryweather.
Go Lorca!!! She looks so wonderful.

Peachy

Moderator





Join date

: 2016-04-06


Posts

: 3164






She looks terrific for a very senior citizen! 29 months! Wow! My senior lady, Cordelia, has just passed the 26 month point and is still going strong (fingers crossed).

_________________
Mouseless but now Hamster-powered
Over the Rainbow Bridge: Chablis, Merlot, Bombay, Frascatti, Mimi, Musetta, Lucia, Carmen, Tosca, Tara, Buffy, Willow, Anya, Cordelia and Imogene the Syrian Hamster
Also Mom to Clare Bear cat and Hermit Crabs Big Enzo, Charles Paris and Mr Pinch

MesaMouse

Hero Member





Join date

: 2016-04-24


Posts

: 702






Oh my god, Mesa, for a second I thought you said "Cordelia has passed away at 26 months and is still going strong!" I was utterly confused.

CinnamonPearl

Hero Member





Join date

: 2016-04-06


Posts

: 1725




Happy 29 months, Lorca!

CallaLily

Hero Member





Join date

: 2016-04-03


Posts

: 3937






She does look great for her age - nice shiny coat.

_________________
~Becky

4 black lady-mice

CAPSLOCK

Sr Member





Join date

: 2016-05-07


Posts

: 177



---
Permissions in this forum:
You
cannot
reply to topics in this forum