+5
Rodents rock!
River
AnonymousMouseOwner
CinnamonPearl
MooMouse
9 posters
Hi everyone! My name is MooMouse, and I am the proud owner of one mouse named Rouge. Here is a picture of him: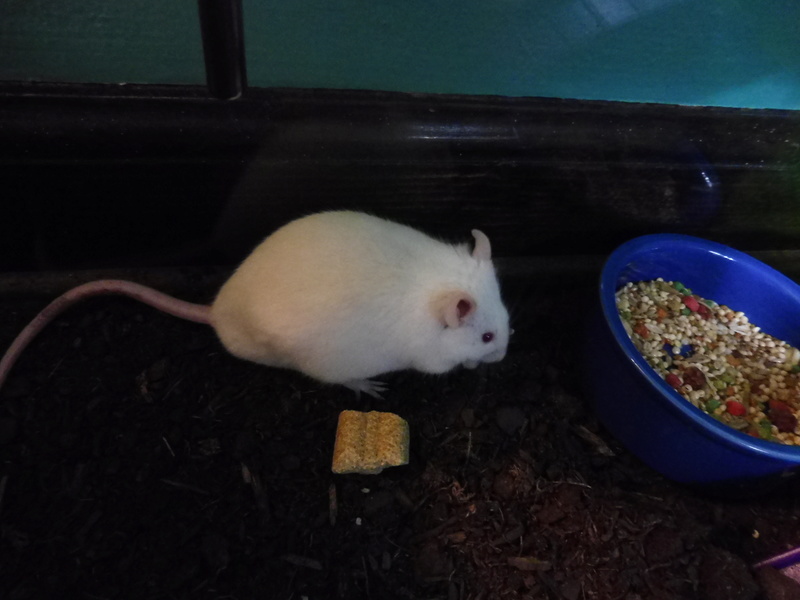 He is 5 1/2 months old, and very energetic. It's so hard to get a non-blurry picture of him. He is very curious and loves people. Despite having more energy than I do on a daily basis, he is very gentle and always careful not to bite you when taking food from your hand. He has never even nipped at me before (although the amount of times he has pooped on me makes up for this). This is only the second mouse I have owned in my life, but I hope to be able to care for more in the future.
Although I am not very knowledgeable on diet or health related mousey things, I hope that I can contribute here by sharing mouse diy projects and other creative things like that.  
Well, I think that's all, see you all on the forums!
EDIT: His name is Rogue, not Rouge. Oops, typo
Last edited by MooMouse on Sun 21 Aug 2016, 9:49 pm; edited 2 times in total

MooMouse

Sr Member





Join date

: 2016-08-15


Posts

: 274







CinnamonPearl

Hero Member





Join date

: 2016-04-06


Posts

: 1725




He's a cute little boy! Welcome!
_________________
Goose & Otter* ♂ 

Remembering Mr. Bald ♂, Tipsy, Topsy, Maier, Graham & Garcia ♀
*Neutered male group. Do not house intact males together.*

River

Hero Member





Join date

: 2016-06-19


Posts

: 1481






Welcome! What a cute little man!

Rodents rock!

Hero Member





Join date

: 2016-06-27


Posts

: 1818






Welcome! What a lovely mouse you have there

_________________
Current Mice: None.
Rainbow Bridge: Daisy, Peach, Ivy, Penelope, Hazel, Ruby, Clover, Peanut, Minnie, Ginger,  Honey, Violet, Flora, Fauna and Merryweather.
Hello, MooMouse! Rouge is adorable. I look forward to seeing you around.

Peachy

Moderator





Join date

: 2016-04-06


Posts

: 3164







CallaLily

Hero Member





Join date

: 2016-04-03


Posts

: 3937






MooMouse and Rouge! He looks like a little charmer and I'm sure he delights you daily with his antics!

_________________
Mouseless but now Hamster-powered
Over the Rainbow Bridge: Chablis, Merlot, Bombay, Frascatti, Mimi, Musetta, Lucia, Carmen, Tosca, Tara, Buffy, Willow, Anya, Cordelia and Imogene the Syrian Hamster
Also Mom to Clare Bear cat and Hermit Crabs Big Enzo, Charles Paris and Mr Pinch

MesaMouse

Hero Member





Join date

: 2016-04-24


Posts

: 702






Similar topics
---
Permissions in this forum:
You
cannot
reply to topics in this forum