+3
CallaLily
MooMouse
CinnamonPearl
7 posters
So I was in the basement earlier this night, putting away the old 10gal tank and such. I was going to head back upstairs when I saw a strange cardboard box tucked away with all of my old aquariums and such. I picked it up, and it looked like a package that was never opened. I was thoroughly confused until I noticed that the sender was the company Bird Tricks! Those people pretty much taught me how to care for parrots. That's when I realized that the box must contain the last shipment of parrot toys that I used to receive from them once a month. After Perry passed, I never opened the last box. I guess it ended up in the basement. The ship date was even September 2014.
Anyway, I took it upstairs and opened it, and I sure got a great gift inside. Three absolutely beautiful bird toys! And you know who else like bird toys? Mice! More specifically, cute light mock chocolate mice that may or may not be named Henry. The toys are still good as new, not even dusty. I think Henry is going to love them. I mean, just look at these things! Perry may have been more pampered than I realized.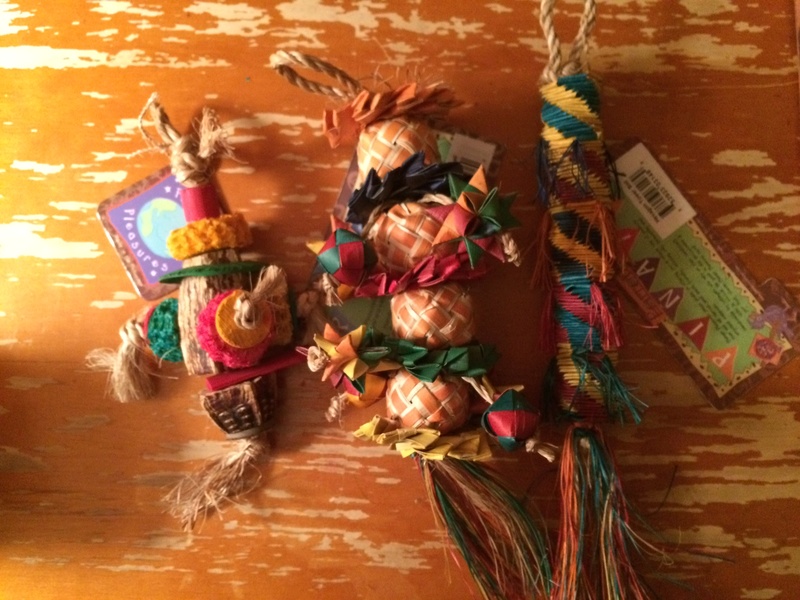 CinnamonPearl

Hero Member





Join date

: 2016-04-06


Posts

: 1725




Even as a human being, these toys look fun to play with! They look like they are of great quality too, Henry must be one lucky mouse!

MooMouse

Sr Member





Join date

: 2016-08-15


Posts

: 274






Neat! Henry is going to love them.

CallaLily

Hero Member





Join date

: 2016-04-03


Posts

: 3937






What a great suprise discovery! I'm sure Henry will love your find!

Rodents rock!

Hero Member





Join date

: 2016-06-27


Posts

: 1818






Awesome! What a neat find! I have something similar for my mice, they love it
it's always worth shopping in the bird section.

_________________
Current Mice: None.
Rainbow Bridge: Daisy, Peach, Ivy, Penelope, Hazel, Ruby, Clover, Peanut, Minnie, Ginger,  Honey, Violet, Flora, Fauna and Merryweather.
Great find! It's lucky they're all mouse-safe toys too.

_________________
~Becky

4 black lady-mice

CAPSLOCK

Sr Member





Join date

: 2016-05-07


Posts

: 177



What fun! I love finding toys that I forgot about... It's like Christmas!

Peachy

Moderator





Join date

: 2016-04-06


Posts

: 3164






Similar topics
---
Permissions in this forum:
You
can
reply to topics in this forum