Not the greatest pics but I was super excited to see Hazel and Celyn snuggling together for a nap right out under the wheel. A rare sight. Normally they're tucked away in their nest, out of sight for naps.  I did accidentally wake Hazel up.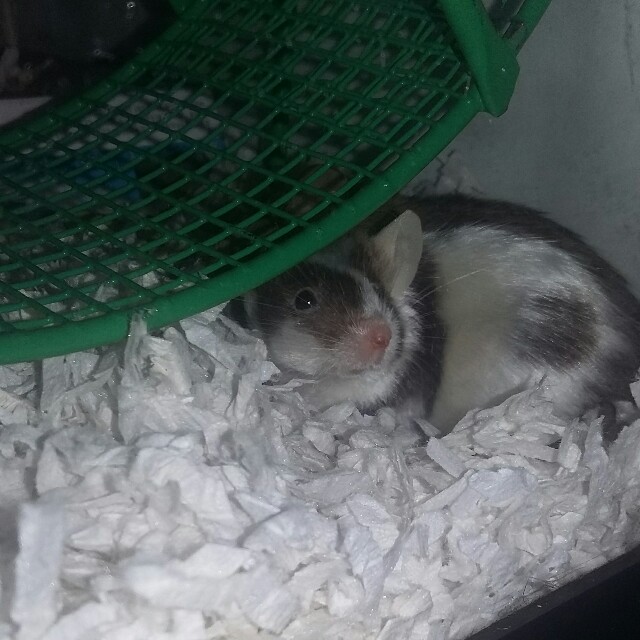 They actually had me worried a bit, sleeping out in the open like that just seems so weird... but I've seen enough adorable snuggle pictures from a lot of you so I guess it's not that weird.  And they were out playing later on (this was yesterday evening) and this morning they're all tucked away somewhere out of sight. So far so good with the upgrade. :::knock on wood:::

CallaLily

Hero Member





Join date

: 2016-04-03


Posts

: 3937






Awww. I wouldn't imagine them sleeping in the open is a problem, especially seeing as they both look so shiny and healthy
Last edited by Artistwolf on Thu 08 Sep 2016, 10:29 am; edited 1 time in total
_________________
Proud owner of two crazy one year old cats, Salt (grey and white) and Pepper (tuxedo)!
No mice... yet

See my Etsy Shop at www.etsy.com/shop/ArtistwolfDesigns
Thank you, Artist. I know I tend to worry too much.

CallaLily

Hero Member





Join date

: 2016-04-03


Posts

: 3937






cute! i never get sick of sleeping animals. so sweet. yeah, i get nervous too if i see them sleeping somewhere they have never slept before. my kids sleep out in the open all the time but they have usual spots for sure.

your girls look fine and sound like they are acting fine, so they are probably fine!
_________________
Lady mice
: stormy, Dahlia, lily, Ella billie, coco, maggie
Gentleman mice
: milo, jimmy
Other pets
: Little Buddy, Kevin (cats) robert, lulu, Englebert, harold, Gerald, Zumi, nico, charlie, (hamsters), stella (gerbil), Gilly (hedgehog)
 Penny, Honeybun, Lucy, Annie, Gilly, Furgie, Tedward Wigglesworth, Olivia, Goose, Sweet Katie, Binky, Delilah, Bitsy, Boopers, Sprout, Splotchy, Eva, Slappy, Shuggie, Fancy Pants, Jellybean, Charlie, Murray, Sally, Maya, Gunther, Lil Smokey, Magnus, Norman, Winnie, Sally, George, Harriet, Spec, Erzulie, Lucille, Agatha and Clementine.

scaredymouse

Hero Member





Join date

: 2016-04-03


Posts

: 2458









Thank you, Scaredy. Sleepy animals are always a cute sight.

CallaLily

Hero Member





Join date

: 2016-04-03


Posts

: 3937






How sweet! Hazel is so pretty.
I always wake my girls, too.

Peachy

Moderator





Join date

: 2016-04-06


Posts

: 3164






Sometimes my mice sleep in funny places if it's been a hot day.
Hazel so shiny!

_________________
Current Mice: None.
Rainbow Bridge: Daisy, Peach, Ivy, Penelope, Hazel, Ruby, Clover, Peanut, Minnie, Ginger,  Honey, Violet, Flora, Fauna and Merryweather.
<3 They are so cute. I love the curious face in that second photo.
Thank you,
@Mouseketeers
.

CallaLily

Hero Member





Join date

: 2016-04-03


Posts

: 3937






Similar topics
---
Permissions in this forum:
You
can
reply to topics in this forum