+4
EverythingAnimal
Artistwolf
Peachy
Mouseketeers
8 posters
I never had a huge appreciate for PEW's or white mice in general. I was always drawn to creams, brindles and broken coloured mice that have enough colour flaws to make any show judge faint. So when I had my first litter of predominantly white covered pups I didn't even hesitate in handing them all over to another breeder. She kept telling me " there is just something about a white mouse". Fast forward seven months when I have the chance to take back one of those very bucks and I too can now say " there is just something about them".
Now he is broken coloured of course xD So not completely white, well technically not white at all. But that face!
He is an even better version of his sire Teddy who was hands down the cutest mouse I have ever come across ( not biased at all
) Not technically correct in his confo, but as far as breeding for pets I would go his type every time over show type. One of the best coat types that I have bred too, it just got better with age ( it is usually the opposite with rex and Lc's ).
And a very bad photo of him at three weeks? Give or take a few lol
Who else has a white mouse that just has that ... thing about them?
The second picture is adorable. And he's got the best face. Oh my goodness.
For a while I didn't care for white mice, but lately I just love them. Maybe it's because I've had so many self/barely marked blacks and brindles in the last few years. My Yoko has blue on her face and near her tail, but she's the whitest mouse I've had since my PEW passed in late 2013. I was so happy to find her! lol
Last edited by abeona on Fri 16 Sep 2016, 9:05 pm; edited 1 time in total

Peachy

Moderator





Join date

: 2016-04-06


Posts

: 3164






Aww! He really is adorable.
_________________
Proud owner of two crazy one year old cats, Salt (grey and white) and Pepper (tuxedo)!
No mice... yet

See my Etsy Shop at www.etsy.com/shop/ArtistwolfDesigns
What a teddy bear! I think most people like colored mice because they happen to be more unique. In a big group of white mice had one black mouse, that one is more likely to go as a pet and not a feeder because there is something special about it. That's why I always go for the least interesting one at Petco! However, I feed like if black mice happened to be more common them PEW's, people would like the PEW's better.
They only time I
don't
go for the least interesting is when there is a blue mouse. They're just gorgeous to me, always are. One time I want into the Pet store and saw a beautiful solid blue with the same face as your mouse. I was about to call someone over to get her out for me when a mother and teenage daughter went in, looked at the small animals, glanced at the mice and said "That would be a good pet for college." And I turned around for them walking away with no other than my adorable blue.
It took me a while to get over that one!

_________________
One male mouse, Willie!
Rainbow Bridge:Merci, Astra, Ellie, Suzie (Suzers), Millie, Cece and Terri.

EverythingAnimal

Sr Member





Join date

: 2016-04-02


Posts

: 320






Abeona - I feel the same way now. You watch, I will get all solid colours now xD We just need one of every colour and then we will be satisfied
Thanks Artistwolf! I am rather taken with him too. Always was the friendliest too.
EverythingAnimal - Aww no! How upsetting for you
Rex mice seem to have an over all rounder appearance. Even under all the fluff they have this little hamster like face. I break all the rules for liking that mouse build let alone breed for it. But how can you resist the little chubby faces.
What a coincidence! His dad was a blue too! Unfortunately I was only able to ever breed one other blue from him. I kick myself to this day for not retaining him.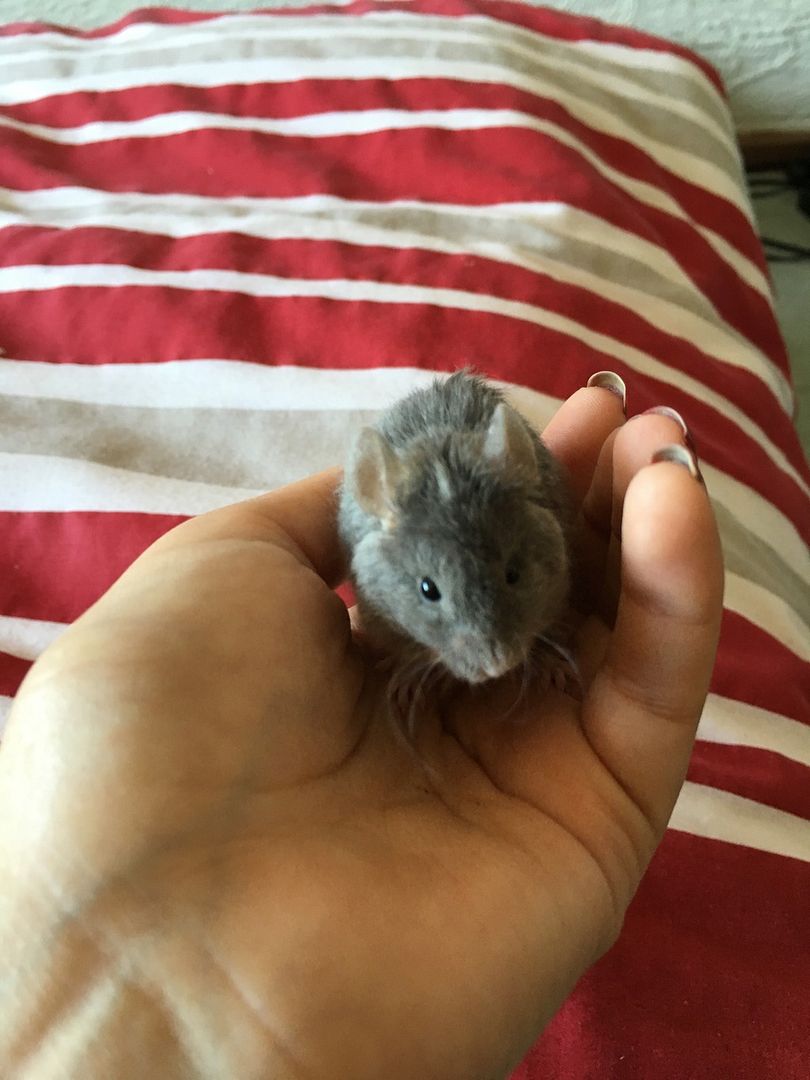 I've always liked white mice - and white animals in general - but Graham was in a group of white mice and there was just something special about her that made me choose her over her sisters. I don't know what it was, but I'm glad I chose her.

_________________
Goose & Otter* ♂ 

Remembering Mr. Bald ♂, Tipsy, Topsy, Maier, Graham & Garcia ♀
*Neutered male group. Do not house intact males together.*

River

Hero Member





Join date

: 2016-06-19


Posts

: 1481






Oh gosh, he is just adorable
I love all white mice, but especially with black eyes. I think there's something about those little black shiny beady eyes, and the way they stand out against the white fur. It's so cute, like Stuart Little
I haven't had a white mouse in a long time, I'd really like one now.

_________________
Current Mice: None.
Rainbow Bridge: Daisy, Peach, Ivy, Penelope, Hazel, Ruby, Clover, Peanut, Minnie, Ginger,  Honey, Violet, Flora, Fauna and Merryweather.
you know I like white mouse
although, I've got a pretty good lookin' blue one i'm pretty smitten with, too
_________________
Lady mice
: stormy, Dahlia, lily, Ella billie, coco, maggie
Gentleman mice
: milo, jimmy
Other pets
: Little Buddy, Kevin (cats) robert, lulu, Englebert, harold, Gerald, Zumi, nico, charlie, (hamsters), stella (gerbil), Gilly (hedgehog)
 Penny, Honeybun, Lucy, Annie, Gilly, Furgie, Tedward Wigglesworth, Olivia, Goose, Sweet Katie, Binky, Delilah, Bitsy, Boopers, Sprout, Splotchy, Eva, Slappy, Shuggie, Fancy Pants, Jellybean, Charlie, Murray, Sally, Maya, Gunther, Lil Smokey, Magnus, Norman, Winnie, Sally, George, Harriet, Spec, Erzulie, Lucille, Agatha and Clementine.

scaredymouse

Hero Member





Join date

: 2016-04-03


Posts

: 2458









I've never owned a colored mouse, only PEWs. I'm not too concerned about color as long as they have the right personality. Rogue probably has the best personality that I could ask for in a mouse, and I am so grateful for that (especially because when I adopted him I knew nothing about mouse personalities, oops. I got soooo lucky).
_________________
The trio: Maisy, Kisiel, and Fiona
Remembering Charlotte and Rogue

MooMouse

Sr Member





Join date

: 2016-08-15


Posts

: 274






---
Permissions in this forum:
You
can
reply to topics in this forum