I don't get attached to my pets, I know I know. I am not saying I don't love them, I don't appreciate or spoil them. That I don't get upset when they move on or die. I have just never had this huge cliche emotional attachment to any of them.
I am not a psychopath I promise  
I work with horses, I have always had pets and they have always been very spoilt pets. My fish eat better than I do.. ( the truth in that hurts lol )
However seven years ago a horse literally walked into my life. I wasn't ready for commitment, I argued with her from day one. She took hours to catch, she argued with me. Her intelligence matched my own and it irked me to no end to constantly be outsmarted by an animal I have spent my life trying to figure out. All in all a humbling experience
Long story short she have problem after problem, leg issues, hoof issues, eye issues, skin issues. Four years ago after months of x-rays, playing with her hooves, choir's, vets, medicines ( enough to write a book with ). I gave up. There was no issue that we could see yet she couldn't walk. She stopped eating and simply stood on three legs all day. So of course I figured there was no other option. I turned her back out into a green paddock one last time. I took a few days away from her and on D day I went to go catch her. My pony that had been running away from me ( only me mind you
) for three years ( even on three legs ). Came running up to me when I called. Running on four legs, legs that days ago she hadn't been able to stand on even with medication.
<<<<< Only this mare, her entire goal in life was to play with my emotions I swear!
Anyways many years have passed, some days I still can't catch her. Some days I still want to kill her. Sometimes I go weeks with out seeing her. But she has always been the independent little thing. The more often I see her, the more often she seems to injure herself. One day I will have to tell you all how she tried to remove her eye on two separate occasions. Or how she stabbed herself in the sole of her hoof with the nail of her own shoe ( Without removing the shoe)
No matter how long I leave her to her own devices she is still my shadow, my dog in disguise. We can go for runs with no gear on, a whistle is all it ever took to call her back. I can ask her to stand and she will stand all day, we can still play tag and no matter what I ask she will do it without question. Be it jumping off cliffs into dams with me or something as simple as working at liberty. For me who has always had work horses, only really wanted work horses. Never bought into the romantic at liberty, horses as friends thing. It is still bizarre that it worked out like this.
Anyways! My favourite pic of us to celebrate her final retirement place. A massive 50 acre paddock with the best views, shared only with a few other horses that she is already enjoying bossing around. A paddock I get to see through my office window at work
There will never ever be another horse like her. I watch people spend hours a day for years at a time to try and achieve with their animals what this one gave willingly to someone who never even realised she wanted it.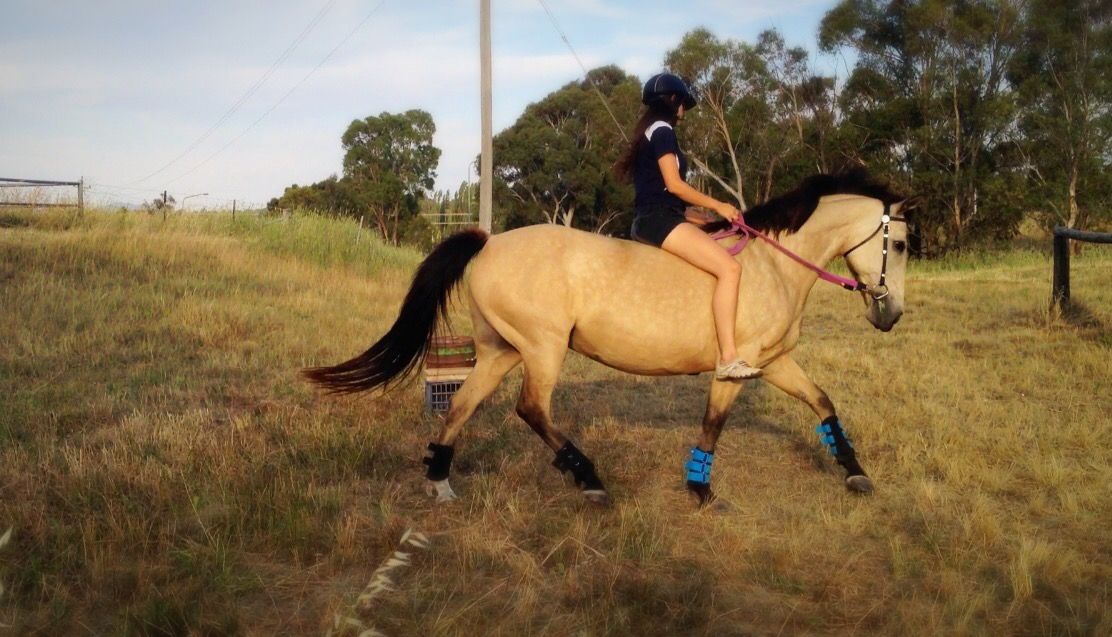 Sr Member





Join date

: 2016-04-11


Posts

: 139


Likes

: 30







That's such a sweet, heartwarming story. Thank you so much for sharing. She's a beautiful horse
_________________
No mice... yet
Anna: How was dinner?
Mary: Uphill. I'm so bored with Mr. Blake's cold shoulder.
Anna: He hasn't warmed up, then?
Mary: According to Mr. Napier, he finds me aloof. I'm not aloof, am I?
Anna: (chuckles) Do you want me to answer truthfully, or like a lady's maid?
Mary: Let's move on.
~Downton Abbey, season 4
Hero Member





Join date

: 2016-04-03


Posts

: 617


Likes

: 94







She sounds like such a character!
Horse stories are the best. She's very pretty.
Moderator





Join date

: 2016-04-06


Posts

: 2193


Likes

: 467







Great story! She's absolutely gorgeous -- such a classic golden buckskin!

_________________
Mouseless but now Hamster-powered
Over the Rainbow Bridge: Chablis, Merlot, Bombay, Frascatti, Mimi, Musetta, Lucia, Carmen, Tosca, Tara, Buffy, Willow, Anya and Cordelia
Also Mom to Clare Bear cat, Imogene the Syrian hamster and Hermit Crabs Big Enzo, Charles Paris and Mr Pinch
Hero Member





Join date

: 2016-04-24


Posts

: 700


Likes

: 130







I liked that story
_________________
Lady mice
: Jellybean, Shugg White, Winnifred & Sally/Georgie & Harriet Potter, Spec, Erzulie, Lucille, Clementine
Gentleman mice
:  Sir Fancy Pants of Furville, Lil Smokey, Magnus, Norman, Alexander, and Charlie
Natal multimammate mouse (ASF):
Agatha
Other pets
: Maya, Kevin (cats), Murray, Sherberta, Slappy (hamsters), Chloe and Zoey (chinchillas)
 Penny, Honeybun, Lucy, Annie, Gilly, Furgie, Tedward Wigglesworth, Olivia, Goose, Sweet Katie, Binky, Delilah, Bitsy, Boopers, Sprout, Splotchy, Eva.
Moderator





Join date

: 2016-04-03


Posts

: 2174


Likes

: 575










Very pretty horse and a great story. Thank you for sharing.
_________________
Rina, Tilda, Arsinoe, & Eulyn
Remembering:
Twix, Bacon, Hashbrown, Daryl, Cheeseburger,
Seren, Celyn, and Hazel
Hero Member





Join date

: 2016-04-03


Posts

: 2597


Likes

: 580








Similar topics
---
Permissions in this forum:
You
cannot
reply to topics in this forum