If you could own any (1) animal in the world, what would it be?
I thought this would make an interesting topic.  
It has to be an animal you don't own already, or haven't owned before.
Also, it can be ANY animal, small, big, furry, hairless, what ever you want!
Explain why you'd want the animal you choose. Have you seen one before and fell in love with it? Is it a beautiful animal? Do they seem friendly and would make a good companion?
A sand cat! They're the most adorable cats you've ever seen, and they just look so cute and cuddly. And I love cats so much anyway...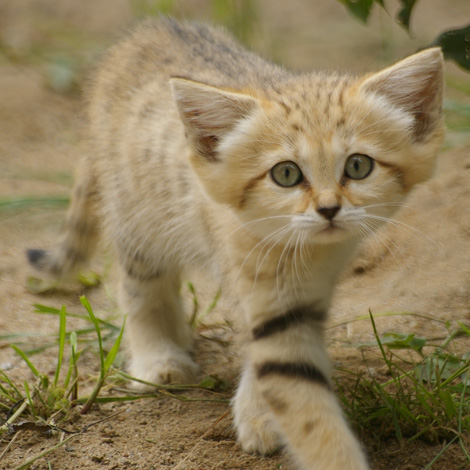 I saw one once at the zoo in Cleveland, Tennessee, and it was just super adorable. Of course, as a wild cat, they can't really be kept as pets, but you said any animal
If I could seriously get any PET pet, I would get a Siberian cat, they're awesome.
_________________
Proud owner of two five month old kittens, Salt (grey and white) and Pepper (tuxedo)!
No mice... yet

See my Etsy Shop at www.etsy.com/shop/ArtistwolfDesigns
(I'm currently donating 25% of proceeds to my local low-cost spay/neuter clinic!)
Hero Member





Join date

: 2016-04-03


Posts

: 647


Likes

: 103







Wild animals are welcome too, we can dream of having them lol. Very cute! Fluffy wild kitty!
Wow, that Siberian cat looks like a high maintenance cat! So much fur!
I've been going back and forth between a pet hedgehog and a ferret for months now, so I think I'd just go with one of them. My husband was teasing because they're so different from each other, but he finally said he's leaning towards a ferret. lol
I've met a few of them (my babysitter had ferrets and then kids that I babysat had ferrets too!) and they were always so crazy-fun. And then I just fell in love with the sweet, playful albino ferret at Petco. The hedgehogs I met when I met with a breeder were sweet too. I don't think I'll ever be able to decide.
Moderator





Join date

: 2016-04-06


Posts

: 2778


Likes

: 766







Aww, I'd really like a ferret too. They seem like adorable small pets. I haven't seen one in person before, but I have watched videos and fell in love with them. If only they were legal. I can dream though!
Any wild animal? And assuming that it could be properly cared for? Beluga Whale or an asian elephant. However they're such unreasonable animals to care for (Imagine the tank size for a beluga!), so my more reasonable goals would be an egg eating snake (they literally only eat quail eggs and are super tiny and cute), or a horse.
User Removed




Join date

: 2016-10-09


Posts

: 9


Likes

: 4







In a strictly fantasy world where wild animals were tame and could be cared for by non-professionals, I'd pick two: the capybara, the largest of the rodent family, and the pangolin, essentially a scaly anteater.
Capybara
Pangolin
To put the Pangolin's size in perspective, here is a pic of a mother and pup in front of a kneeling man
Last edited by MesaMouse on Mon Oct 10, 2016 12:25 pm; edited 1 time in total (Reason for editing : Corrected pangolin description from "armadillo" to "anteater")

_________________
Mouseless but now Hamster-powered
Over the Rainbow Bridge: Chablis, Merlot, Bombay, Frascatti, Mimi, Musetta, Lucia, Carmen, Tosca, Tara, Buffy, Willow, Anya, Cordelia and Imogene the Syrian Hamster
Also Mom to Clare Bear cat and Hermit Crabs Big Enzo, Charles Paris and Mr Pinch
Hero Member





Join date

: 2016-04-24


Posts

: 702


Likes

: 130







Wow, those things are cool!

_________________
Always believe that something wonderful is about to happen.

~Lulie, Pearl, Dulcie, Dandy, Tulip & Finnegan~
~Alex, Darcy, Vera, Verity & Atticus~
~Mika and Milo~
Moderator





Join date

: 2016-04-06


Posts

: 2778


Likes

: 766







Honestly, I'd want a shelter dog or goldfish. I know it said one, but I couldn't decide! Since goldfish need at least 40 gallons, I can't have them because I don't have space for that! And I'm not allowed to have a dog. But, in all honesty, I'm happy where I am!

_________________
I have a PEW mouse named Cotton!
Pets: Bandit (cat), Yahtzee, Peanut, and Gingersnap (gerbils), Cotton (mouse), Calypso and Merlin (bettas), my 60 gallon fish tank, discus tank, shrimp tank, guppy tank and a new bearded dragon called Simber!
Full Member





Join date

: 2016-05-23


Posts

: 98


Likes

: 10







A single or a pair of pet shop fancy goldfish can get away with 30 gallons, if they're small. But I've never had one or seen how fast they grow, so maybe not!

I would love a Sun Conure or Quaker parrot. Did you know there are wild Quaker parrots in Chicago? Every time I visit I keep my eyes peeled. They were brought to many major cities and released, but died off in most but Chicago. Of course, there are very few, and I've never seen one, but apparently they nest on phone lines and the phone line companies (or whatever they're called) keep removing the nests, so the population is decreasing. You can google it.

The reason I want a sun conure is because I saw one at my local petland (I don't go there often because they ofen buy from puppy mills and don't care for their animals properly), and it was so friendly. Hand tamed, and it even did a little dance when I walked by again! Oh how I wanted that conure! But, I'm just not in a position to care for one right now. If I was, then definitely!

_________________
The Loner: Terri
Rainbow Bridge:Merci, Astra, Ellie, Suzie (Suzers), Millie, and Cece.
Sr Member





Join date

: 2016-04-02


Posts

: 292


Likes

: 54







I'd go with a capybara as well, probably - I've always wanted one, not sure why. They're just so..cute.
I rather like fennec foxes as well;
The Patagonian Mara;
Or the kinkajou;
_________________
Graham & Garcia
Hero Member





Join date

: 2016-06-19


Posts

: 1138


Likes

: 252







Oh, I rather like pineapple conures! Or any conure, really. There's a pineapple at my local pet shop that's so friendly - if you say 'pets?' she'll come over and lean against the bars until you stroke her head. Adorable.

And my favorite animal ever is a pig.
_________________
Graham & Garcia
Hero Member





Join date

: 2016-06-19


Posts

: 1138


Likes

: 252







I want all the animals ahhhhh!!! I want harvest mice, african pygmy dormice, roborovski hamsters, rats, a hedgehog, flying squirrels, ferrets, sugar gliders, degus. I'd love a cockatiel, budgies, a blue monk parakeet. I'd love a bearded dragon. I want a beagle, a cocker spaniel and a tonne of other dogs.
If I could own a wild animal... I'd love to snuggle up to a white tiger
Mostly I'd like some genetically modified mice that live like 10 years or more. Not likely though

_________________
Current Mice: Honey, Violet, Flora, Fauna and Merryweather.
Rainbow Bridge: Daisy, Peach, Ivy, Penelope, Hazel, Ruby, Clover, Peanut, Minnie, Ginger.
Hero Member





Join date

: 2016-04-12


Posts

: 1362


Likes

: 217








---
Permissions in this forum:
You
cannot
reply to topics in this forum