Maier and Graham are six months today! I was planning to do something more elaborate but uh - I thought it was the ninth. Until 10 minutes ago. So.
I threw together a salad last minute, and I'll be making them a mouse-safe cake tomorrow for a birthday celebration! I'll get something off YouTube, probably, but if anyone has any mouse-safe birthday cake ideas, let me know.
Hopefully they won't notice that I nearly forgot their birthday.
Maier didn't want her picture taken, but she celebrated too.
Bonus: maier is very enthusiastic about her salad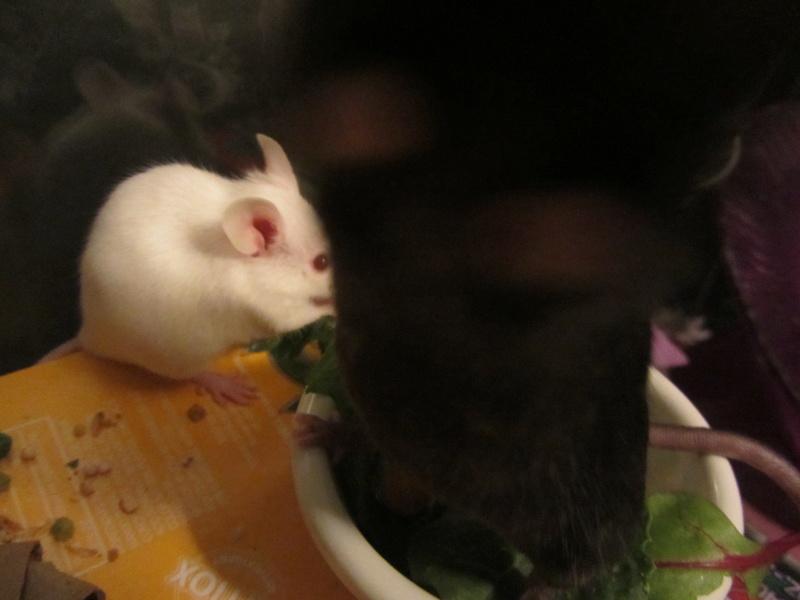 _________________
Goose & Otter* ♂ 

Remembering Mr. Bald ♂, Tipsy, Topsy, Maier, Graham & Garcia ♀
*Neutered male group. Do not house intact males together.*

River

Hero Member





Join date

: 2016-06-19


Posts

: 1481






Lol! Those pictures of Maier are hilarious. Graham looks so sweet.

Peachy

Moderator





Join date

: 2016-04-06


Posts

: 3164






Awww, great pics and happy 6 months!
I've seen a "cake" made out of little circles of whole grain bread with plain yogurt in place of frosting and a bit of fruit to decorate. Scaredy does something similar to that too, I think? It's one treat I'm planning for Celyn and Rina's birthday next month.

CallaLily

Hero Member





Join date

: 2016-04-03


Posts

: 3937






Happy six months!
I am glad my poor mice can't see all these photos xD They wouldn't know what to do with this much spoiling!
Happy six months old mouses!
_________________
Lady mice
: stormy, Dahlia, lily, Ella billie, coco, maggie
Gentleman mice
: milo, jimmy
Other pets
: Little Buddy, Kevin (cats) robert, lulu, Englebert, harold, Gerald, Zumi, nico, charlie, (hamsters), stella (gerbil), Gilly (hedgehog)
 Penny, Honeybun, Lucy, Annie, Gilly, Furgie, Tedward Wigglesworth, Olivia, Goose, Sweet Katie, Binky, Delilah, Bitsy, Boopers, Sprout, Splotchy, Eva, Slappy, Shuggie, Fancy Pants, Jellybean, Charlie, Murray, Sally, Maya, Gunther, Lil Smokey, Magnus, Norman, Winnie, Sally, George, Harriet, Spec, Erzulie, Lucille, Agatha and Clementine.

scaredymouse

Hero Member





Join date

: 2016-04-03


Posts

: 2458









---
Permissions in this forum:
You
can
reply to topics in this forum