Hello, Ive never had mice before, but have found 3 female mice 6 weeks old, and am thinking about picking them up in a few days.
They come with a cage thats 60x40 cm, which is perfect size for where I want to place them in my room.
What do you think about this positioning? its the only place I can put them really, because its out of direct sunlight and fits in this space which is suppose to be enough area for 3 mice.
My main concern is that is above my stero system, I don't play it loud but Im wondering if it would disturb their sleep during the day? If this is the case I will have to find another place for my speakers.
The other worry is that its quite high up, I dont want them to be scared..
Also the cage will have an overhang of about 20cm, I was thinking of securing it somehow.
What do you think about this?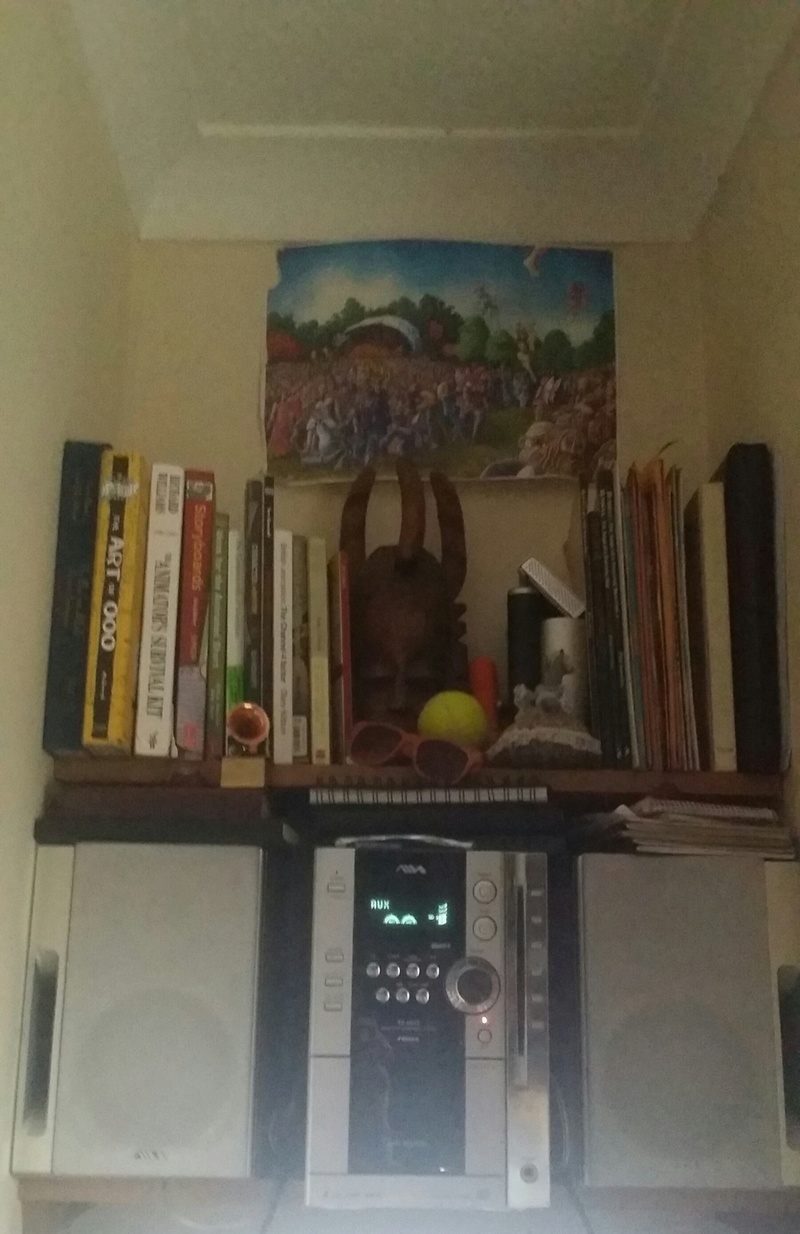 Thanks,
Theo Sparks
It is quite high up, and it'd be difficult to ge them out from up there, especially if its secured. One of our members purchased a TV stand and placed it there, I don't know who though...
Mine are currently on a shoe rack being purposed into a shelf. This is fairly cheap and works well. If the cage is secure enough, you could find a place for it on the floor.


It could work fine, but it sounds sort of troublesome for cleaning /handling time.
_________________
Goose & Otter* ♂ 

Remembering Mr. Bald ♂, Tipsy, Topsy, Maier, Graham & Garcia ♀
*Neutered male group. Do not house intact males together.*

River

Hero Member





Join date

: 2016-06-19


Posts

: 1486






Getting the mice in and out of the cage would be my main concern, unless it's easy to lift up and down or something... but they wouldn't be scared of how high they are and if the music is quiet they probably wouldn't mind it. My mice sleep through all sorts of background noises.
Could you put them in another spot and put up paper or something as sort of "curtains"?

Peachy

Moderator





Join date

: 2016-04-06


Posts

: 3164






Having it up so high would make daily spot-cleaning, water and food changing and getting the mice out for taming difficult and the overhang is fairly substantial, posing a safety issue. Do you have a dresser or desk in your room that you could use as a stand? River's idea of repurposing a TV stand is a good one -- any type of small furniture item (coffee table, end table, footlocker, etc) would work well to keep the mice at a safe level as well as one that is readily convenient for you to do housekeeping and have easy access to the mice for taming, playtime, etc.

_________________
Mouseless but now Hamster-powered
Over the Rainbow Bridge: Chablis, Merlot, Bombay, Frascatti, Mimi, Musetta, Lucia, Carmen, Tosca, Tara, Buffy, Willow, Anya, Cordelia and Imogene the Syrian Hamster
Also Mom to Clare Bear cat and Hermit Crabs Big Enzo, Charles Paris and Mr Pinch

MesaMouse

Hero Member





Join date

: 2016-04-24


Posts

: 702






Similar topics
---
Permissions in this forum:
You
cannot
reply to topics in this forum