I cleaned the girl's tank out today, and I put in this egg carton thingy: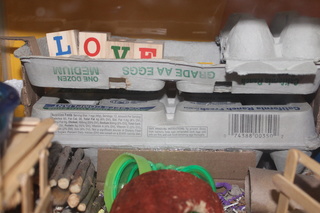 After cleaning, I went to throw away the bag of dirty bedding. When I came back, I saw Daisy's back end sticking up out of the hole in the top of the egg carton, but didn't think much of it. I later realized she was stuck!!! I opened the egg carton and she looked at me with big sad eyes, like "help!". Her front end was in the egg carton but she couldn't get her back end in because she's too chubby. I had to use scissors to cut the egg carton and help her out. This is the cut I had to make to free her: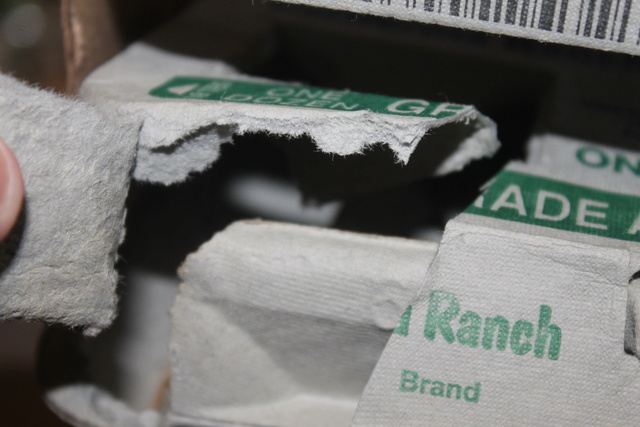 Oh Daisy..... Now she is staying away from the egg carton and hiding in the cardboard house I made them.
(Bonus pic, look at that belly
)
I have had to be careful of things like that with my big girls. I am glad you were able to get her out and she was ok!

CanadianExport

Sr Member





Join date

: 2016-10-08


Posts

: 258






So much for the "a mouse can get through anything it can get its head through" thing! Poor girl.

_________________
One male mouse, Willie!
Rainbow Bridge:Merci, Astra, Ellie, Suzie (Suzers), Millie, Cece and Terri.

EverythingAnimal

Sr Member





Join date

: 2016-04-02


Posts

: 320






Aaw, poor little (not so little) Daisy
Good thing you were around to help her.

_________________
Current Mice: None.
Rainbow Bridge: Daisy, Peach, Ivy, Penelope, Hazel, Ruby, Clover, Peanut, Minnie, Ginger,  Honey, Violet, Flora, Fauna and Merryweather.
Poor Daisy! At least she's fine now.

CinnamonPearl

Hero Member





Join date

: 2016-04-06


Posts

: 1725




Similar topics
---
Permissions in this forum:
You
cannot
reply to topics in this forum