Hello, I got my first mice a few days ago, and found the best place for the cage in my room is here (see picture below).
Its out of direct sunlight and and the only place I can put them so I can see them and interact with the easily.
What do people think of where it is and how I blocked the direct sunlight? Am I missing something? Not sure if the fact that their on the floor makes a difference, as it must be scary for them when Im looking down on them all the time.
Also my room doesn't have curtains or anything like that, dont know if that is bad for them or not.
Im probably just over-worrying, but I want to be sure.
Cheers,
Theo.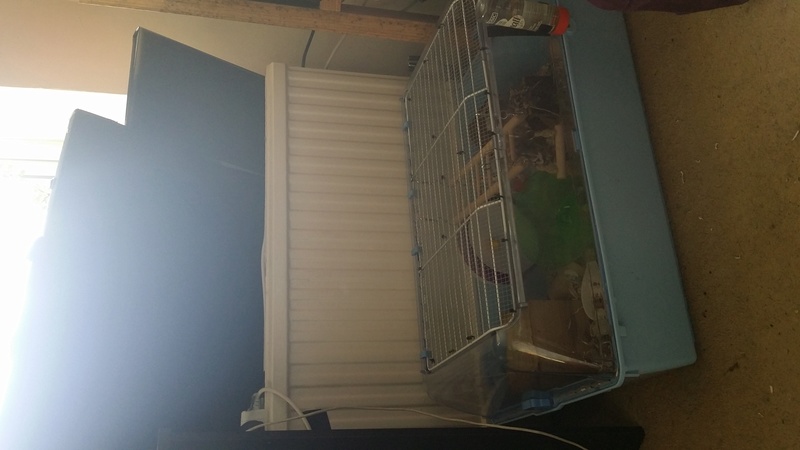 It looks okay to me. I had mice on the floor too because their aquarium was too heavy to lift up and down. They got used to it and usually weren't bothered. Sometimes if I surprised them, talking to them to let them know it was just me stopped them from scattering or encouraged them to come out of hiding.

Congrats on your new mice!!!

Peachy

Moderator





Join date

: 2016-04-06


Posts

: 3164






Congrats! I think they'll be just fine where they are or if you were to find some sort of stand to put them on.

CallaLily

Hero Member





Join date

: 2016-04-03


Posts

: 3937






My mice live in my living room and I always have blinds open. They do not seem to mind at all. I just try and have a couple hides that are opaque so than they have somewhere dark to hide. Congrats on your new mice!

CanadianExport

Sr Member





Join date

: 2016-10-08


Posts

: 258






The concern with mice being in direct sunlight pouring through the window is it can dramatically raise the temperature in that spot. Especially in a tank or tank-like cage.  Or the opposite if there's a draft during cooler times.  Watch the temperature closely in that area throughout the day.  

Now if they're not directly in the path of the window/sunlight, not really an issue. (provided they have a normal day/night cycle)

CallaLily

Hero Member





Join date

: 2016-04-03


Posts

: 3937






Yes, sorry forgot to clarify, mine are not in direct sunlight. I meant to answer the concern of having no blinds on their windows.

CanadianExport

Sr Member





Join date

: 2016-10-08


Posts

: 258






---
Permissions in this forum:
You
cannot
reply to topics in this forum